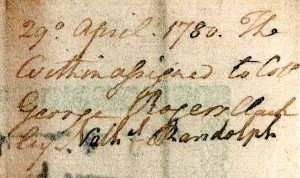 Search The Filson Historical Society's Card Catalog Online!
The Filson is excited to announce the launch of a new phase in research access to our manuscript collection. The Filson's card catalog has long been the best point of access to our manuscripts, providing detailed, subject level description, but has always been limited to in-house access.  Early in 2014, working with Underground Vaults and Storage and Louisville Geek, The Filson began a project to scan the card catalog, run OCR on the images, and use the text to populate a keyword-searchable database. The result is an online "virtual" card catalog, which is fully keyword searchable. The database is now fully available for searching and viewing.
Please note that this catalog is an access point for manuscript collections, which include personal and family papers and diaries, business and organization records, scrapbooks, architectural record collections, and autograph collections.  Please use the additional online indexes and research tools (at: https://filsonhistorical.org/finding-aids-research-tools/) for searching theater program, sheet music, print, and image collections.
Instructions:  Please use the search box below to do an online search of the manuscript card catalog database.  The database defaults to a keyword "AND" search of all fields (for example, it will look for either the word John AND Smith if you type in John Smith).  For help with searching and further searching tips, please use the help link below the search box.  Please note that this search will lead you to detailed information on the subjects found within the collections, not digital images of the collections themselves.  When using the database, we recommend using a browser such as Chrome, Firefox, or Safari.  The database is not optimized for Internet Explorer use and you may experience problems.
If you have any questions, please contact the Collections Department for more information via phone (502) 635-5083 between 9am and 5pm, Monday-Friday, or email research@filsonhistorical.org.
Key Word Search:
For information or questions regarding these materials please contact the Filson's Collections Department via phone (502) 635-5083 between 9am and 5pm, Monday through Friday, or email: research@filsonhistorical.org.  You can view the collection catalog cards on the web or download a PDF version (you will need Adobe Reader, or similar software, to view a PDF document).