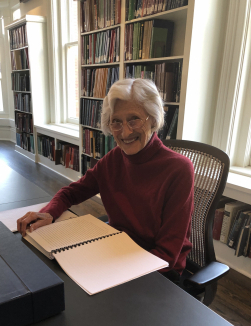 We look forward to assisting in connecting you with our collections at the Filson! Please see below for information about in person and remote research and services provided by Collections staff.
---
Researching From Home
Please use our research tools online, linked from the left, to learn more about our holdings.
Staff can conduct up to two hours of research for those unable to visit us at a cost of $35/hour for members, $50/hour for non members.
Staff can send pdf scans or photocopies to remote researchers for $0.25 page, plus a $5.00 processing fee per each 50 pages of copies. For inquiries that take more than 30 minutes to research, there is also a $50 hourly fee, for a maximum of two hours.
Please email us at research@filsonhistorical.org. The research email account is monitored multiple times a day on weekdays.
If you are interested in ordering high quality image reproductions, please visit our Order Reproductions page.
Researching At the Filson (CURRENTLY UNAVAILABLE)
Research room hours are Monday through Friday, 9am-4:30pm; new materials are not pulled after 4pm.
Most of our collections are housed on site and can be pulled on demand, but please make an appointment to view museum collections via email (research@filsonhistorical.org) or phone (502-635-5083).
Parking is available in our building lot, and also in our lot at the northeast corner of Third and Ormsby Streets (enter off of Ormsby).  Free street parking is also available in the neighborhood.  There is a TARC stop (Route 4) at Fourth and Ormsby Streets.
Conducting research is free for members and students; non-members pay a $10 daily research fee.
All visitors and researchers check in to our campus by completing a simple form on an iPad at the front desk during each visit; our front desk attendant will be happy to help you.
Please bring your photo ID to the Collections Department; a photocopy for internal use will be made by staff if you are viewing rare or special collections materials.
To request collections materials, researchers will complete a request form in the Collections Department, providing personal information and signing to agree with our rules and regulations – download a fillable PDF of this form online here.  Feel free to complete the form at home to save time the day of your research.
As the majority of our materials are in closed stacks, staff will pull and bring the material to the appropriate reading room (Library or Special Collections). No material may be removed from the reading room.
Food and drink are not allowed in the reading rooms or public galleries; please also refrain from cell phone use (for calls).
Free lockers are available to store your personal belongings. Only pencils, loose sheets of paper, laptops/tablets, and cameras are permitted in the reading rooms. Your materials may be checked when you leave the reading rooms. If you are conducting research in our Collections Department, please CLICK HERE for a list of items restricted from our reading rooms. 
All visitors and researchers must sign out at the front desk before leaving the building.
To view a list of accommodations close to the Filson, please click here.
Handling Materials at the Filson
Researchers accept the responsibility of handling all materials carefully. Manuscripts and books must not be written on, folded, traced over, or handled in any way that may cause damage.  Researchers working with photographs may be asked to wear gloves.
When working with foldered or boxed items, please maintain the order of the material. Please do not shuffle or otherwise rearrange the order of the manuscripts and photographs. If you feel something is disordered, please speak to a staff member.
Keep the materials flat on the table; do not lean on them or hold them in your hands to read. If you need a magnifying glass or additional lighting, please ask a staff member.
Photocopies and Digital Photography
Please ask staff what procedures to follow regarding photocopies and digital photography.
Scanners are not permitted in the reading rooms.
The researcher is responsible for acquiring any necessary permissions regarding copyright.
Special Collections Reading Room:

A photocopy request/digital photography form must be completed and signed.
Photocopies are 25 cents per page for letter and legal size, 50 cents for oversized paper; Filson staff makes all copies. Copies will either be available at the end of the researcher's visit or can be picked up or mailed at a later date, depending on staff's availability to make copies at the time of your visit. For copy order of over 100 pages, an additional fee may be charged for staff time.
Digital photography by the patron may be done free of charge; in addition, a use form must be completed (click here for a sample). Staff will provide a strip identifying the material as coming from the Filson to be included in each shot.
All copies and digital images are to remain in the exclusive possession of the researcher and may only be used for research purposes. Please speak to a staff member for permission to share copies/images with others or to post digital images online.

Library Reading Room:

Photocopies and microfilm prints are 25 cents per page for letter and legal size, 50 cents for oversized paper; patrons may make their own copies.
Digital photography by the patron incurs no fee.
Citing Materials From the Filson
Proper bibliographic and footnote credit is required.
Permission to use quotes from manuscripts should be obtained from the Curator of Collections; please email research@filsonhistorical.org to obtain permission.
Manuscript Collection Citations: please include specific cite of material as appropriate, collection title as appropriate, The Filson Historical Society, Louisville, KY.
Photos and Prints Citations: please include the object ID number, collection title, date if known, and The Filson H

istorical Society

, Louisville, KY

. 

Example:

987PC52X.01, Enid Bland Yandell Photograph Collection

, 1894, The 

Filson Historical Society, Louisville, KY.

Museum Collection Citations: please include the object ID number, title as appropriate, creator if known, date if known, and The Filson Historical Society, Louisville, KY.
To order copies or high resolution reproductions, please see our "Ordering Reproductions" page.
The researcher is responsible for acquiring any necessary permissions regarding copyright.
Spaces Available for Rent Beginning 2021
The Filson Historical Society is a unique venue that blends the historic with the modern and provides a stunning background for any event. Several areas of the campus are available to be rented for dinners, retreats, meetings, receptions, parties, or weddings. The venues have access to 74 free parking spaces and wifi, as well as small catering areas. All of the Filson's facilities have accessible parking.
1310 S. 3rd St., Louisville, KY 40208
(502) 635-5083
The Filson is temporarily closed to the public to protect our staff, volunteers, and patrons during the coronavirus pandemic. All events are currently postponed or virtual; to register for our live virtual events, please visit our Events Page; for information on recorded lectures and other activities, please visit us online at Bringing History Home.
We continue to provide remote research services; please email research@filsonhistorical.org.