COLLECTIONS FINDING AIDS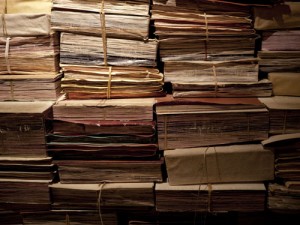 The Collections Department of the Filson holds primary source material such as letters, diaries, business and institutional records, photographs, scrapbooks, architectural drawings, and other material unique and rare. Ephemera such as newspaper clippings, family files, genealogy collections, sheet music, theater programs, and broadsides are also part of the collection. The Filson has been collecting and preserving Kentucky and the Ohio Valley region's significant stories since 1884.
To assist you, we have digitized the finding aids for over 150 of our most popular manuscript collections along with inventory lists of many of our vertical files; you can view the finding aids on the web or download a PDF version (you will need Adobe Reader, or similar software, to view a PDF document). These finding aids include descriptions of the collections and their creators, as well as full folder listings for each. Please note that these guides only cover a portion of our manuscript collections; please use the Filson's online catalog or manuscript database for a more thorough search, or feel free to contact the department for more information.
To search by keyword, family, or company name that may span multiple collections, use the search tool below. For a complete listing of all collections outlined in these finding aids, please click on the "View All Collections" link below.
For information or questions regarding these materials please contact the Filson's Collections Department via phone (502) 635-5083 between 9am and 4:30pm, Monday through Friday, or email research@filsonhistorical.org.
Key Word and Name Search:
No Results