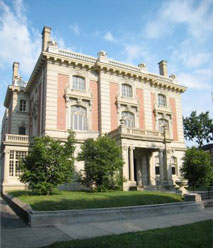 The Filson was founded on May 15, 1884, by ten Louisvillians with a common love of history. The primary founder and first president was Reuben T. Durrett.
The organization was named in honor of John Filson, Kentucky's first historian, whose book, The Discovery, Settlement, and Present State of Kentucke, and map of Kentucky were published in 1784. In honor of Filson and the centennial of those historical publications the organization was christened The Filson Club. From that small gathering of amateur historians in Durrett's home, the institution evolved into Kentucky's privately supported historical society.
Today, thousands of people visit annually to conduct research, attend programs, and tour the Filson's headquarters building, the Ferguson Mansion, and museum.
The Ferguson Mansion has been the Filson Historical Society's headquarters since 1986. Designed by the architectural firm of Dodd and Cobb and completed in 1905, the Ferguson mansion is one of the finest examples of Beaux Arts architecture in Louisville. Built for industrialist Edwin Hite Ferguson, it showcased his success and family's social status.
Sold to the Pearson family in the 1920s, the mansion was a funeral home for almost half a century. After passing through two other owners, the Filson purchased the mansion and accompanying carriage house in 1984. Renovation and a stacks addition for the collection were completed in spring 1986. Both beautiful and functional, the Ferguson has been a wonderful home for the Filson and, in turn, by owning this historic property the Filson is assuring its preservation.