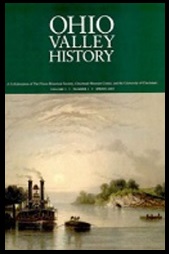 A collaboration of The Filson Historical Society, Cincinnati Museum Center, and the University of Cincinnati, Ohio Valley History is a quarterly journal of the history and culture of the Ohio Valley and the Upper South. In addition to articles, the quarterly features historiographical and review essays, notes and documents, and reviews of books, exhibits, and historical sites. With over 3,000 subscribers, it is one of the nation's largest regional journals.
The Ohio Valley History is available online to Filson members. Please log in to access the journal. Once you are logged in, click the journal on the right to viewOhio Valley History online. If you are not logged in, this link will direct you to our membership page. You can view an index to articles in the OVH from 2001-2019 by clicking here.
Subscription
There are several ways to subscribe to Ohio Valley History, including E-Memberships, Teacher and Student Memberships, and regular memberships. To learn more about levels of membership and subscription to the journal, click here.
Submissions
Authors should submit their manuscripts electronically, saved in Microsoft WORD, via CD-ROM or email attachment (preferred) to patricklewis@filsonhistorical.org or matthew.norman@uc.edu.  The preferred manuscript length is 20 to 25 pages (6,000 to 7,500 words), exclusive of endnotes. Research notes and review essays are approximately half the length of articles. Please use New Times Roman, 12-point font, and double-space text and notes, with notes placed at the end of the manuscript text. OVH uses omnibus endnotes (one note per paragraph).  On a separate cover page include the author's name, institutional affiliation, and contact information (postal address, phone number, and email address). Only the article title should appear on the first page of the article.
The Ohio Valley History follows the Chicago Manual of Style, 14th edition or above. We suggest that authors refer to previous issues of the journal for examples of format and style.
Please include a working postal address, with telephone and email information for home or office. To facilitate our policy of anonymous manuscript review, the author's name and address (both postal and email) should appear only on a separate title page.
Who We Are:
Editors:
Patrick A. Lewis The Filson Historical Society
Matthew D. Norman University of Cincinnati Blue Ash College
Book Review Editor:
Matthew Stanley Albany University
Managing Editors:
Jamie Evans The Filson Historical Society
Scott Gampfer Cincinnati Museum Center
Editorial Board
Luther Adams University of Washington, Tacoma
Joan Cashin Ohio State University
Kathleen Duval University of North
Nicole Etcheson Ball State University
Craig T. Friend North Carolina State University
Douglas Hurt Purdue University
James C. Klotter Georgetown College
Tracy K'Meyer University of Louisville
Clarence Lang The Pennsylvania State University
David A. Nichols Indiana State University
Christopher Phillips University of Cincinnati
John David Smith University of North Carolina
David Stradling University of Cincinnati
Nikki M. Taylor Howard University
Frank Towers University of Calgary
Publishing Information
Ohio Valley History (ISSN 1544-4058) is published in Cincinnati, Ohio, and Louisville, Kentucky by The Filson Historical Society and the Cincinnati Museum Center.