Exploring The Architecture Of Crescent Hill And The Highlands
By Chip Arbegust, Filson Collections Volunteer (originally posted 25 February 2016)
For the last two years I have been volunteering in the Filson's Special Collections department assisting with scanning photographs for image orders, in-house use, and different cataloging projects headed by Associate Curator of Photographs, Heather Potter.  As I walked through the doors of the Filson one Tuesday morning last November, per usual, I was anxious to see what interesting materials awaited me for scanning.  Since I started my "career" as a volunteer, I could count on Heather to provide projects that would peak my interest.  This Tuesday was no exception, the Arthur Raymond Smith Photograph Collection awaited.
The Arthur Raymond Smith Photograph Collection consists of 51 photographs dating from ca. 1910-1930.  Forty-eight are mostly black and white photographs detailing newly constructed homes in the Highlands including some beautiful mansions surrounding Cherokee Park.  The other three photographs are of Arthur and his friends as well as co-workers.

Born in New Albany, Indiana on 4 Julye 1869, Smith began his architectural career under the supervision of Mason Maury.  Before opening his own office in 1895, he worked with T. C. Link (St. Louis) and D. X. Murphy as well as Dodd and Cobb (Louisville).  Smith married Margaret J. Brown on October 15, 1895.  In 1947 Smith relinquished his architectural license and subsequently stopped practicing.  Arthur Raymond Smith died on July 20, 1955.
Smith is best known for his residential designs, particularly those in the Prairie and Craftsman styles, while others are eclectic with English Tudor or French elements.

This collection was of great interest to me given that both my parents grew up in the Highlands.  While scanning the images, it dawned on me that my first cousin, Michael Smith, who is an architect, lives in the Highlands, and whose surname is Smith (no relation to Arthur Raymond) might be interested in looking at the collection and possibly offer an architectural perspective.  Within the next few weeks my cousin joined me at the Filson to look through the collection.  Michael quickly exhibited the same level of interest that I had and noted some of the architectural features as explained above.  We accessed Google Maps and were able to locate a few of the homes from the collection.  Unfortunately, our Google Maps experience left a lot to be desired in terms of details.  Michael and I, therefore, agreed to drive together throughout the Highlands and Cherokee Park area and see for ourselves how these beautiful homes appear today.  The results of our excursion can be seen below in comparison to images of homes that Arthur Smith designed as they looked soon after construction, nearly 100 years ago, and how they look at present.  One can easily see that they still retain their original charm!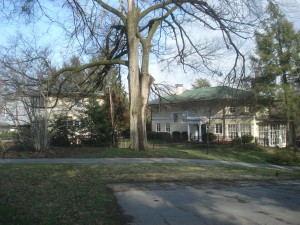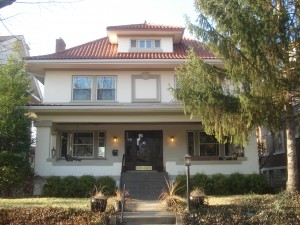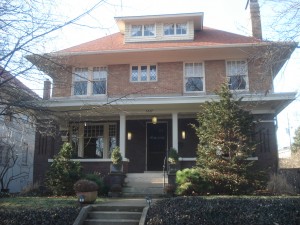 To the full collection of Smith's homes visit our online Image Database: http://filson.pastperfectonline.com/search?utf8=%E2%9C%93&search_criteria=%22Arthur+Raymond+Smith%22&searchButton=Search
About the author:
Charles (Chip) Arbegust started volunteering at The Filson Historical Society in the spring of 2014.  Before retiring, he worked for nearly forty years in the manufacturing and distribution of specialty metals for industrial applications.  Shortly after retirement, Chip met with the Filson's Collections Curator Jim Holmberg because he was interested in donating the personal papers of his great grandfather, John Beauregard Arbegust, Superintendent, L & N Railroad (1907-1924).  Chip donated the materials to the Filson and soon after became a volunteer because of his passion for Louisville and Ohio Valley History.  Chip grew up in Louisville, graduated from Murray State University, and is married with one son.