For 133 years, The Filson Historical Society has collected, preserved, and shared our region's story - a story that connects us to our past, our place, and each other. We are a private organization that does not receive governmental support. We rely on the generosity of individuals, businesses, and organizations in order to continue our work of preserving and sharing our region's history. Your annual fund donation provides powerful support for everything The Filson does, including historical preservation, educational programs, publications, and exhibits. Please consider making a gift today or becoming a History Sustainer by making a monthly contribution. Learn more.
Gifts to the Annual Fund go above and beyond membership dues. To find out more about where your gift goes please enjoy the stories below:
Jennifer Armstrong: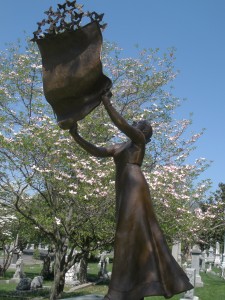 An Annuity New Business Processor by day and history sleuth by night, volunteer researcher Jennifer Armstrong used The Filson's collections to uncover the identities of 220 children and infants who died at the Home of the Innocents between 1882 and 1920 and were buried in unmarked graves at Cave Hill Cemetery. Armstrong spent countless hours at The Filson piecing together historical clues to uncover the names of "Louisville's Forgotten Children." She searched in the Protestant Episcopal Orphan Asylum Records, scrutinized microfilm of vital records, and dug through Pearson Funeral Home records, all housed at The Filson. In the end, Armstrong identified all but one child, who she says will remain "known only to God." Two memorials to the children were erected at Cave Hill Cemetery in 2009. Thanks to your gifts, which help keep our archives open, and the dedication of researchers like Armstrong, these children are no longer forgotten.
Contribute to the Annual Fund today! 
Dr. Christina Snyder:
"Ten years ago, I was lucky enough to become a Filson fellow. I was in graduate school, ju
st beginning my dissertation, and the Filson fellowship provided the resources I needed to jumpstart my archival research. At the Filson, I looked at manuscripts dating back to the 1700s, focusing on relations between early settlers and nearby Native American nations. That research became a key component of my first book, which explored captivity in the American South. More recently, I've gone back to The Filson to work on my second book. I'm drawn to the fascinating history of early Kentucky, and there's no better place to study that history than The Filson, not only because of its extraordinary archival wealth, but also because of the intellectual community it creates. The Filson's staff is exceptionally knowledgeable and helpful, and their collections and events draw scholars from around the world."
Dr. Christina Snyder, the Thomas and Kathryn Miller Associate Professor of History at Indiana University, was a 2005 Filson fellow. Snyder's first book, Slavery in Indian Country, was published by Harvard University Press in 2010, and won several awards, including the John C. Ewers Award, the James H. Broussard Award, and the Berkshire Conference of Women Historians Prize. Her forthcoming book, Great Crossing, explores the antebellum community that formed around the first federally-controlled Indian boarding school, which was in Scott County, Kentucky.
Contribute to the Annual Fund today! 
Jacob F. Lee, Ph.D.
"I cannot overstate the importance of my internship at The Filson Historical Society to my career as a historian. My internship provided my first prolonged exposure to working in an archive, and it allowed me to engage daily with original documents and to hone my skills as a historian. After spending a summer cataloging the papers of The Filson's founder, Reuben T. Durrett, I used those documents to write an article about the founding of The Filson in the context of post-Civil War Kentucky. But, more importantly, the knowledge and skills that I learned at The Filson proved invaluable as I earned my Ph.D. and continue to help me as a professor."
Jacob F. Lee, Ph.D., was a Filson intern while attending the University of Louisville's M.A. history program. He is currently a Postdoctoral Fellow and Visiting Assistant Professor at
Indiana University, Bloomington.