The Filson Historical Society Theatre Program Collection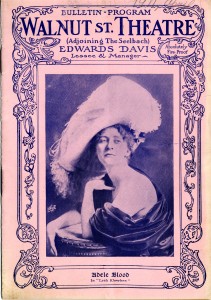 The Filson Historical Society's theater holdings offer a fascinating look at Louisville's past via the footlights and curtain calls of the stage. From humble high school productions to the elegant venue of Macauley's Theatre, The Filson's collection preserves the performances of local amateurs and revered stars, such as the famed Madame Modjeska and Louisville's own Mary Anderson.
The theater program collection encompasses over ninety boxes of loose programs and scrapbooks housed in Special Collections. A guide to the collection is available online.
The theater collection in the Special Collections Department also contains many fine broadsides of coming attractions, theater records, accounts of performances in the personal papers of local residents, and photographs and prints of venues and actors. One such gem is the Heineman Theatrical Collection from the early twentieth century. This eighty-six item collection contains photographs from various plays, and portrait photos of actors and actresses, many of whom appeared at Macauley's Theatre, such as Maud Adams, George Arliss, Billie Burke, and Fay Templeton.
In addition to the materials in Special Collections, The Filson Library also houses a series of books by John Jacob Weisert, the Louisville theater historian and German language teacher, which are invaluable to anyone researching Louisville theater history. Weisert has provided checklists of performances for Samuel Drake's City Theatre, Macauley's Theater, the Louisville Theatre, and Mozart Hall. The library also maintains historical files on Louisville theaters, actors, and actresses.
If you need assistance in researching the theater program collection, please email research@filsonhistorical.org.