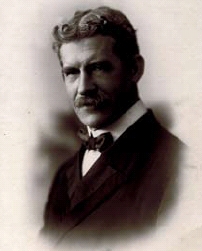 Beginning his inaugural address as the newly appointed Governor of Puerto Rico, Arthur Yager remarked, in English, to the crowd gathered at the Governor's mansion in San Juan: "I am coming to you as a stranger to many things…"
Indeed, when Yager became the ninth U.S. appointed governor of Puerto Rico on November 20, 1913, he was a complete stranger to the island, its language, its people, and its politics. Until 1913, Yager had spent the greater part of his adult life at Georgetown College in his native Kentucky. He received his bachelors degree from Georgetown in 1879 and a masters there in 1882. Later, he was a professor of history, economics, and political science from 1884 to 1913 and the first lay president of the college from 1908 to 1913. In fact, the only time Yager spent away from Georgetown was a two-year period from 1882 to 1884 when he pursued his doctorate at Johns Hopkins University in Baltimore. During this short hiatus from Kentucky, however, Yager developed a friendship with one of his classmates, Woodrow Wilson, that catapulted him to the governor's mansion in San Juan.
At Johns Hopkins, Yager and Wilson pursued doctorates in political science and sang in the University's Glee Club together in 1884. Their careers shared a common trajectory after Johns Hopkins as well, with Wilson serving as the first lay president of Princeton from 1902 to 1910. As university presidents and former classmates, Wilson and Yager corresponded regularly about a number of topics, sharing a belief in self-determination for all nations and a desire to "make the world safe for democracy."
When Wilson was elected president in 1912--the first democrat to hold the office since Grover Cleveland in 1897--it was no coincidence that he chose his friend Arthur Yager to implement his administration's progressive reforms in Puerto Rico, a territory that had been annexed from Spain at the conclusion of the Spanish- American War in 1898. Despite Yager's inexperience in political affairs and his unfamiliarity with the "beautiful island," he promised in his inaugural address to carry out Wilson's call for "greater homerule and local self-government" for Puerto Rico. He also called for cooperation in developing the island's infrastructure, which included building and maintaining roads, promoting literacy, improving public health, and in general, "striving to bring about in Puerto Rico, good, honest, and efficient government."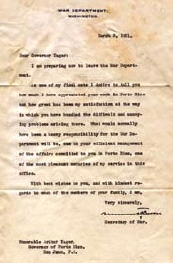 As the recently cataloged Arthur Yager Papers, 1913-1921 at The Filson suggest, Yager worked tirelessly to achieve all of these goals during his eight years as Puerto Rico's governor despite a series of setbacks that included frequent labor strikes threatening the economic stability of the island, a devastating earthquake and tsunami in 1918, and several widespread outbreaks of typhoid fever. In the process, Yager earned a reputation as one of the island's most respected American governors.
Perhaps Yager's most singular achievement came in 1917 when he helped secure the passage of the Jones-Shafroth Act, one of the most important events in the history of U.S.- Puerto Rican relations and one that is well documented in the Filson's Yager collection. Unlike previous governors, Yager believed that Puerto Ricans should have a greater role in governing their island's affairs. As he wrote to President Wilson on December 3, 1913, "practically all parties here have agreed to put aside personal and factional differences and to work with me to . . . give a larger measure of home rule to the people of Puerto Rico." With the passage of Jones-Shafroth Act, Puerto Ricans officially became U.S. citizens for the first time, and they gained the right to freely elect members of the island's legislative branches.
Despite this important move towards greater autonomy for Puerto Rico, the act still left the administration of the island very much under Washington's control. The President and the War Department's Bureau of Insular Affairs continued to make executive and judicial appointments, and the governor still reserved absolute veto power over all proposed legislation. In addition, as many scholars point out, while the Jones-Shafroth Act granted citizenship to Puerto Ricans it also conveniently extended the draft to the island just before the U.S. intervention in World War I in 1918. During the conflict, the island contributed approximately 20,000 troops to the U.S. war effort.
After the election of Warren G. Harding in 1920, the Puerto Rican legislature sent a resolution to the president elect urging him to retain Yager as Governor, but by spring of 1921 it was clear that Harding had other plans. On May 6, 1921, Harding appointed E. Montgomery Reilly to replace Yager as Governor of Puerto Rico. In just a few months, Reilly managed to dissolve many of the amicable relations between Puerto Ricans and their American overseers that Yager had carefully cultivated during his eight years in office. Often referring to himself as a "ruler" and calling for "100%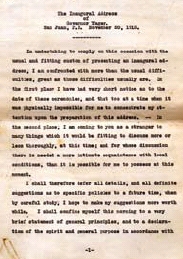 Americanism," Reilly did not hide his contempt for Puerto Ricans and governorship was characterized by "tactlessness" according to historian Truman Clark.
Disappointed by the new administration, Yager returned to Louisville in 1921 where he was a visiting lecturer on a variety of topics. In 1928, he ran unsuccessfully for U.S. Congress in Kentucky's fifth district. He died in Pewee Valley in 1941.
With nearly two cubic feet of Yager's official correspondence as Governor of Puerto Rico, The Filson's Arthur Yager Papers, 1913-1921 provide invaluable source material for scholars of U.S-Puerto Rican relations during the Wilson administration. In addition, the collection highlights a persistent theme in the history of U.S. foreign policy since the 1910s--the struggle to reconcile the Wilsonian philosophy of anti-colonialism and self-determination with the desire to establish democracy and democratic institutions in other parts of the world.