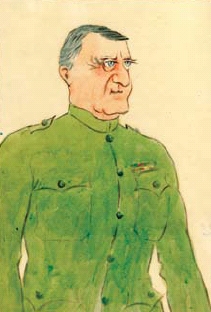 As with just about everything else, Leonardo Da Vinci is sometimes credited with inventing the caricature—a drawing or sketch that exaggerates a subject's distinctive features to achieve a comic effect.
If not its inventor, Da Vinci was certainly one of the earliest practitioners of the art form, which according to most scholars entered its "Golden age" in the 1920s and 1930s. During this two decade period, one of the most prolific caricaturists was Wyncie King, a Louisville resident from about 1910 to 1921. Over the course of his career, King's illustrations appeared in magazines like the Saturday Evening Post and were exhibited at the Art Institute of Chicago and the Pennsylvania Academy of Fine Arts. Before earning national recognition, however, King was an illustrator and caricaturist for the Courier-Journal and the Louisville Herald. In his retirement, King remembered these years in Louisville fondly, and in 1958 he donated a small but significant collection of his along with an assortment of cartoons and other small sketches.
The bulk of the 86 watercolor caricatures, now housed in The Filson's special collections, were completed by Wyncie King around 1920 and depict prominent Louisvillians and distinguished visitors that he encountered during his tenure at the Louisville Herald from 1911-1921. "They were people of character and distinction in the community of that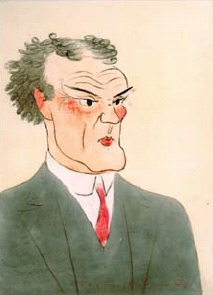 era," King wrote to Filson Curator Dorothy Cullen in May 1958. "I savored the making of each drawing and remember many details of each." Thanks to King's unique abilities, the caricatures provide an unusual glimpse into the "life and likeness" of these personalities that is hard to glean from books, documents, or even formal portraits.
Born in Covington, Georgia in 1884, Wyncie King spent much of his life explaining the story behind his unusual name. When deciding whether to name their son after Rufus King, a Revolutionary War hero, or after another relative who was a 19th century Tennessee notable, Mr. and Mrs. George Whitfield King could not reach an agreement. For the first several months of their son's life, the Kings referred to him as only their "teensy weensy boy." When the young child grew old enough to talk, he assumed "weensy" was his given name, and his parents never resisted. Wyncie he remained.
When King was still young, the family relocated to Paris, Tennessee, where at age 19, he signed on as a weighmaster for the Louisville and Nashville Railroad. While waiting for the next train, King would often fill his spare time drawing sketches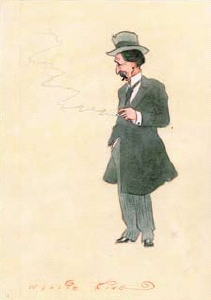 and caricatures of his coworkers. Confident that his likenesses were better than those featured in the local paper at the time, King took several of his drawings to the editor of the Nashville Banner who promptly bought them and requested more. Before long, he was on staff at the Banner where he stayed until accepting a position at the Courier-Journal around 1910.
In 1911, King left the Courier and became the feature cartoonist for the Louisville Herald, a position he held for ten years. These years in Louisville were fruitful, for it was here that King met his wife Hortense Flexner, who later became an accomplished poet and professor of English at Bryn Mawr College in Pennsylvania. In Louisville, King met and sketched most of the figures included in the Filson's collection. It was also in Louisville that he first garnered national recognition as a caricaturist--recognition that helped him land a job at the Philadelphia Public Ledger in 1921. According to the Saturday Evening Post, critics hailed one particular series of caricatures King sketched for the Public Ledger as "the finest work in caricature ever done in this country."
With his reputation growing, King became a regular contributor to the Saturday Evening Post in 1925, joining one of America's best-known illustrators, Norman Rockwell. As the magazine later printed in 1935,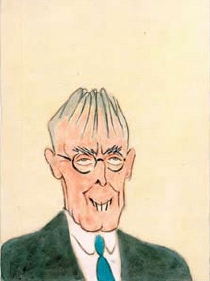 readers loved King's "curious eye, which is like a camera endowed with imagination and an irrepressible sense of humor." In the 1940s, King's eyesight diminished, but he continued to illustrate a number of children's books authored by his wife, including Chipper (1941), Wishing Window (1942), and Puzzle Pond (1948). In his later years, King retired to Chapel Hill, North Carolina, and maintained a summer residence on Sutton Island in Maine. He died in 1961 while vacationing in Athens, Greece.
As correspondence at the Filson indicates, King frequently sent his friends and acquaintances impromptu caricatures, often receiving letters of appreciation in return. Even as his eyesight and health deteriorated, King's comic sense did not, as evidenced by the whimsical drawing of two fish that he sketched on a 1958 envelope addressed to Filson Curator Dorothy Cullen. The Filson's Wyncie King collection is a testament to his comic sensibilities and his remarkable artistic talent. While these caricatures document a colorful array of Louisville residents and visitors during the 1910s and 1920s, they also provide a window into the life and work of an artist who contributed much to the golden age of an amusing art form.