Enid Bland Yandell was an artist ahead of her time. She pursued a career in sculpture, a medium dominated by men during the early twentieth century, rather than choosing a life of domesticity. Although Yandell was from a prominent Louisville family, she relied on her talent rather than her social standing to advance her career.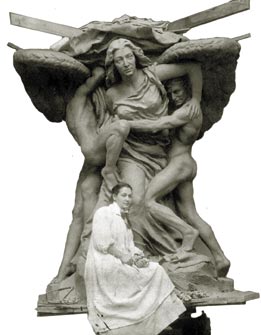 Yandell also sought to improve people's lives, not only through her artistic creations but also through progressive thinking and dedicated service. The Filson Historical Society's Enid Yandell Collection contains a wealth of information on this fascinating early-twentieth-century artist. Our current exhibit "Enid Yandell: Sculpting a Legacy" was culled from two hundred eighty-four photographs, 4.66 cubic feet of personal papers, and works of art from The Filson collection, as well as pieces on loan from local collectors. The exhibit encompasses her personal life, her education, her public works, and her private commissions. Our wish is to illuminate not only her talent and creativity but also her determination, social conscience, and zest for life.
Born in Louisville, Kentucky, on October 6, 1870, Yandell was the eldest daughter of surgeon Lunsford Pitts Yandell, Jr., and Louise Elliston Yandell. Her parents nurtured her artistic talent and encouraged her to pursue a professional career as a sculptor. Louise persuaded her daughter to concentrate on local personages and to brush up on her Kentucky history, hoping it would lead to lucrative commissions. The advice was well-given and no doubt led to the creation of such works as Yandell's Daniel Boone in Cherokee Park and her busts of Col. Reuben T. Durrett and Alfred Victor DuPont in The Filson's collection.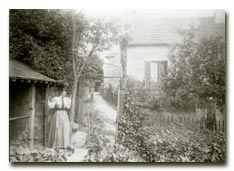 Yandell's education and apprenticeships played an important part in her public triumphs. Her training began at Hampton College in Louisville where she completed degrees in chemistry and art. She then completed a four-year program at the Cincinnati Art Academy in two years, winning a first-prize medal upon graduating in 1889. Some of Yandell's most important skills were learned during apprenticeships with noted sculptors of the day. She studied with Lorado Taft and Philip Martiny in Chicago and with Karl Bitter in New York. In the winter of 1894, Yandell went to Paris to study with Frederick MacMonnies and other instructors at Mme. Vittie's Academy in Montparnasse. She repeatedly returned to Paris during the early 1900s for artistic inspiration.
Yandell's professional career began when she was hired to design the caryatids for the roof garden of the World's Columbian Exposition two years after graduating from the Cincinnati Art Academy. While basking in her award-winning success in Chicago, Yandell received her first public commission for a freestanding statue. The Filson Club commissioned her to sculpt a likeness of pioneer Daniel Boone. Yandell used Boone's own hunting shirt, flintlock rifle, tomahawk, scalping knife, and powder horn while modeling the statue. She also used The Filson's portrait of Boone as a guide. The plaster cast of the Boone statue was shown at several exhibitions. It was not until 1906 that C. C. Bickel commissioned the work in bronze for the city of Louisville.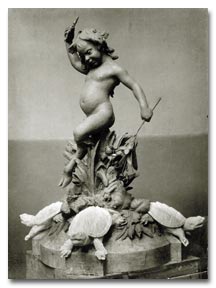 Yandell's next public commission was the renowned colossal statue Pallas Athena created for the Nashville Centennial Exposition in 1897. The Pallas Athena was vital to Yandell's technical development as a sculptor. Colossal figures, such as Batholdi's Statue of Liberty, were quite in vogue during this period; the forty-two-foot-high Pallas Athena helped Yandell develop her skills, achieve considerable public recognition, and acquire needed revenue. Yandell created the plaster cast in her Paris studio. Unfortunately, it was never bronzed and was destroyed by the weather. Yandell garnered a great deal of fame from this commission, and in 1898 she was the first female inducted into the National Sculpture Society. Numerous other public commissions followed, including the sculpture of Pan created for Hogan's Fountain in Cherokee Park.
Yandell devoted much of her life to not only creating beautiful works of art but also to improving people's lives. She contributed to the education of future artists by founding the Branstock School in Edgartown, Massachusetts, in 1908. The art school functioned for several summers until her death in 1934. Yandell also actively supported the women's suffrage movement and campaigned for President Calvin Coolidge.
The horrors of World War I affected the artist to the point that she virtually halted her career. Yandell became involved with the French organization for the care of war orphans, La Société des Orphelins de la Guerre, and the Red Cross. She was also involved in Appui Aux Artists, which provided affordable meals for those involved in the arts and their families. Yandell eventually returned to the United States and continued her work, serving as director of the Bureau of Communications for the American Red Cross in New York and as chair of the Women's Committee for the Council of National Defense. Her social work consumed all of her time, and by 1925 she had almost completely ceased sculpting. Enid Yandell died on June 13, 1934, in Boston, Massachusetts, and is buried in Cave Hill Cemetery in Louisville.