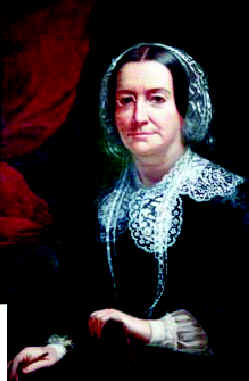 One morning, at The Filson, a family came to visit. This is not unusual but the story the family had to tell was. Family descendents of Julia Tevisí, head mistress of Science Hill Female Academy, from Nebraska and Oklahoma came to visit her portrait and all had one thing in common: their names were also Julia Tevis.
There are eight generations of Julia Tevisí in their family and the youngest Julia (nicknamed Tevis), at the age of eight, was here to get her pictu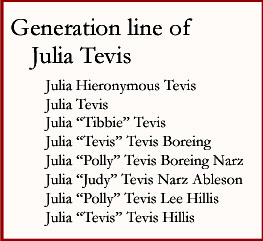 re taken with her mother (nicknamed Polly), grandmother (nicknamed Judy) and the portrait of Julia Tevis. All eight have the birth name of Julia Tevis, but each is called by a different nickname. Originally from Louisville, KY, "Judy" had visited The Filson and the portrait many times before and knew where the portrait was hanging on the third floor wall. But what made this time special was that her daughter and granddaughter were at The Filson with her to have the first picture taken of all three of them together with the portrait. "It is important for the present generations to learn about past generations, said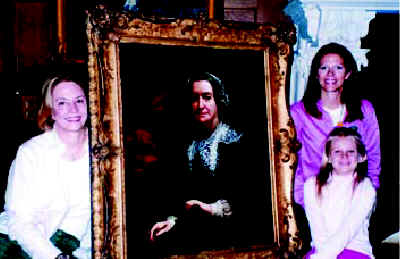 Julia "Judy" Tevis Narz Ableson. "People have stories to tell and if they are not preserved they would be long lost facts." "Tevis", eight-years-old, stated that she would be the last of the Julia Tevisí; she is not having children and will always live with her mother. The Filson is home to over 400 portraits, all with a story to tell. Portraits are given to The Filson to be preserved, conserved, long lost facts." researched and enjoyed, not only by their family members but all who come to visit The Filson. If you have family portraits in your possession, please remember The Filson as a possible future home for these important treasures.
The Filson Historical Society
1310 South Third Street - Louisville, KY 40208
Phone: (502) 635-5083 Fax: (502) 635-5086

Hours
The Ferguson Mansion and Office
Monday - Friday: 9 am. - 5 pm.
Saturday and Sunday closed
Library
Monday - Friday: 9 am. - 5 pm.
Saturday: 9 am. - 12 noon