Words of a Forgotten Poet: The Musings of Ben H. Hardin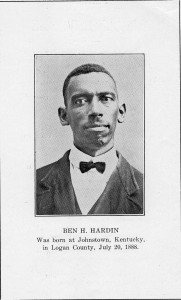 The Filson Library recently acquired a small, rare book of poetry entitled A Progressive Age.  It was published in 1922 by Johnstown native Ben H. Hardin, who also went by the name of "Bennie" when he was young.  Hardin was born in Logan County on July 20, 1888, the oldest son of Henry Hardin & his wife Emma.  In addition to a sister named Fannie (pictured), he also had a brother Arthur and a sister Addie.
Henry Hardin was a farmer, a profession that his son also may have followed after a stint as a coal miner in Earlington during the war years.  Farming themes appear in several of Ben Hardin's poems, including "Agriculture is the Best", "Farmer's Organize", "The Hardships of a Farmer", and "Be a Farmer's Wife."  Hardin also writes about the town of Earlington and its people, his native Johnstown, World War I, faith & spirituality, education, hunting & fishing, family matters, and women.  One of my personal favorites is "How to Win a Lover", a poem that seems appropriate to share post-Valentine's Day.
Ben Hardin died in Logan County in 1966.  Johnstown, the place of his birth, has since become a ghost town.  A Progressive Age is his only known publication.
*Information on Ben Hardin and his family from federal census records, a Logan County Kentucky 1905 school census, 1917 WWI draft registration, and the Social Security Death Index.  All images from A Progressive Age.