What's on your Derby Menu?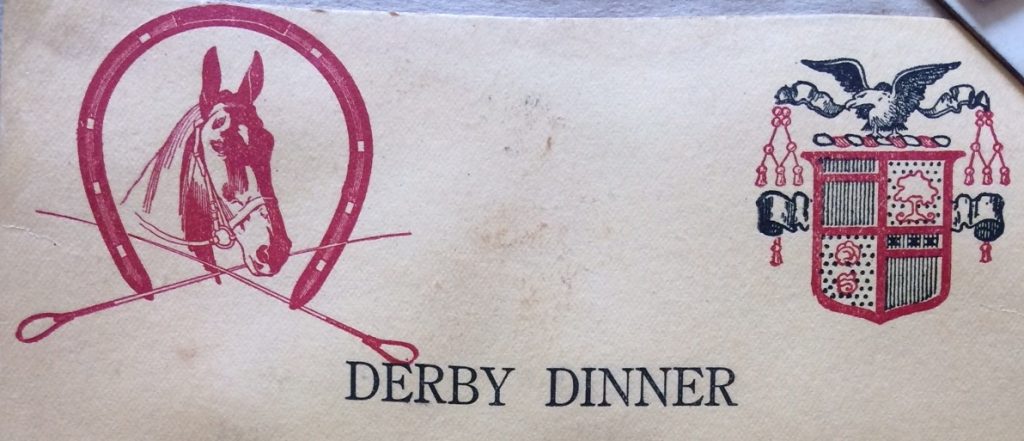 If you are a local Louisvillian or a transplant like myself, you know that this is Derby Week here in our great city. This Friday and Saturday marks the 144th Kentucky Oaks and Kentucky Derby. While many people think of the horses, hats, and bourbon what about the culinary side of things that are equally apart of this local  holiday? Last year I delved into the history of Benedictine Spread, this year with food still on my mind I decided to explore our Menu Collections to see what local restaurants and individuals have been serving at their KY Derby Parties over the years.  I hope this gives you some inspiration as you prepare for your Derby party!
Brown Hotel, ca. May 1926—Featured a 1926 Blue Grass Squab Chicken Derby & Frozen Nesselrode Pudding! According to the James Beard Foundation website, "There is no ingredient called a "nesselrode." This frozen confection is named after Count Nesselrode, a 19th century Russian diplomat whose cook is credited with its creation. During the century, frozen iced cream desserts were wildly popular, both in Europe and America. The basic custard mixture, traditionally containing chestnuts in some form, was frozen in fancifully shaped metal molds. These wonderful molds can occasionally be found in antique shops, but are regarded as collectibles and command high prices." Learn how to make your own here: https://www.jamesbeard.org/recipes/nesselrode-pudding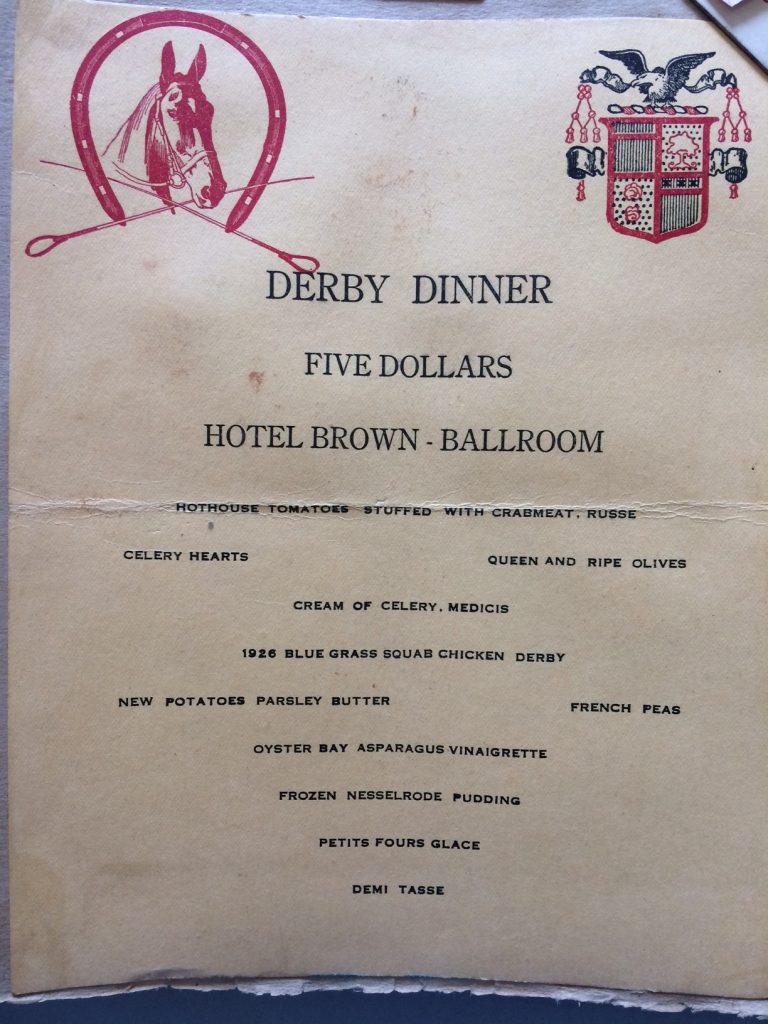 Pendennis Club, April 1, 1959—Meals served at the Club over the Derby Weekend. Derby Day Brunch comes in at $3.50 a person, what a deal! Looks like mimosas and juleps were still full-price.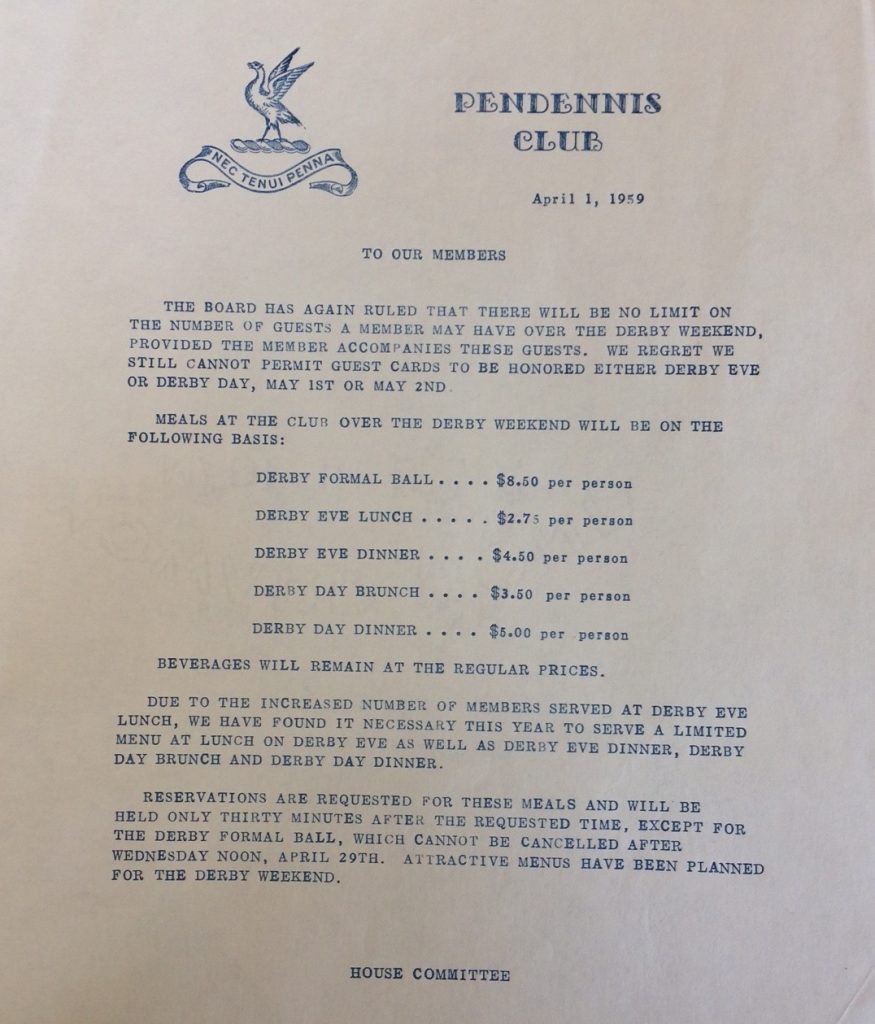 Pendennis Club, Saturday, May 2, 1959—Table d'Hote Dinner, featured options of starters of Half Grapefruit or Cold Tomato Madrilene with Main Course options of Fried JUMBO Frog Legs with Tartar Sauce or Broiled Sirloin Steak. The Apple Pie with Cheese dessert option would be my pick!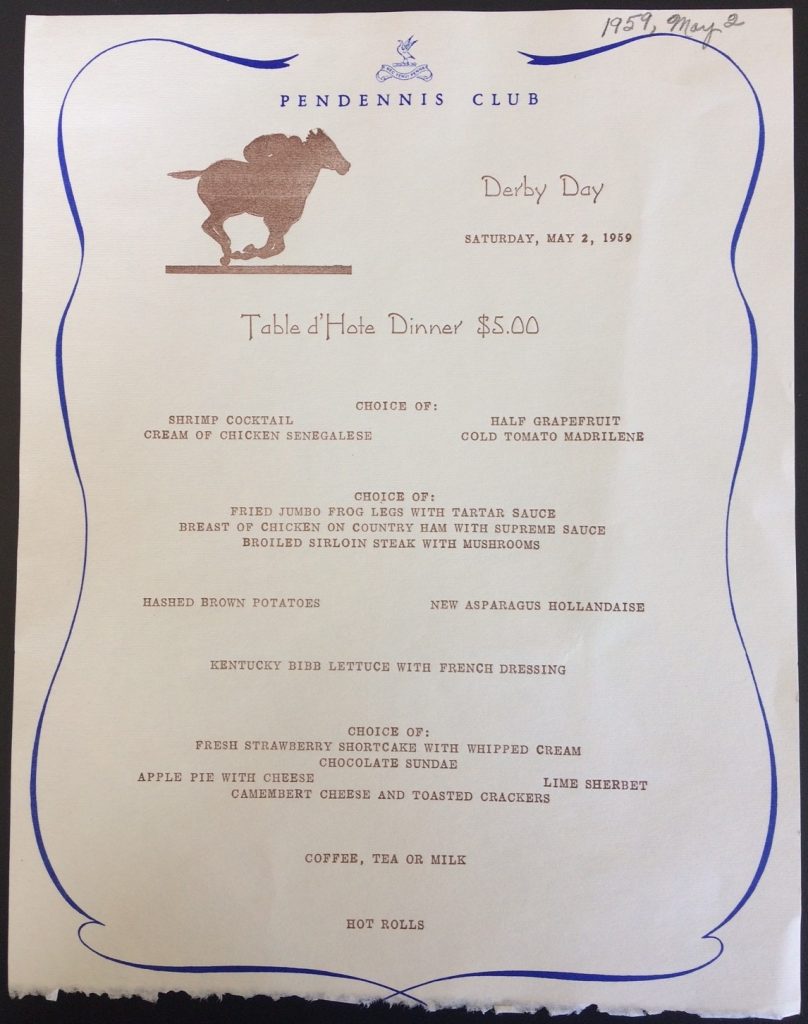 Casa Grisanti in Phonix Hill, May 7, 1977—This handwritten Kentucky Derby Brunch Menu is totally something I would do today. This menu featured tradition Kentucky Country Ham with Red Eye Gravy, Eggs Phoenix Hill, Chees Grits and of course Mint Juleps.
After further exploring our two boxes of local menus, I realized that this is a type of local ephemera we should continue to collect. These documents help us gain a better understanding of the culture of food in our region. So if you have any old menu's at home let us know--we would love to build our collection!  Shoot me an email: hpotter@filsonhistorical.org