Unearthing the Fashion Collection at the Filson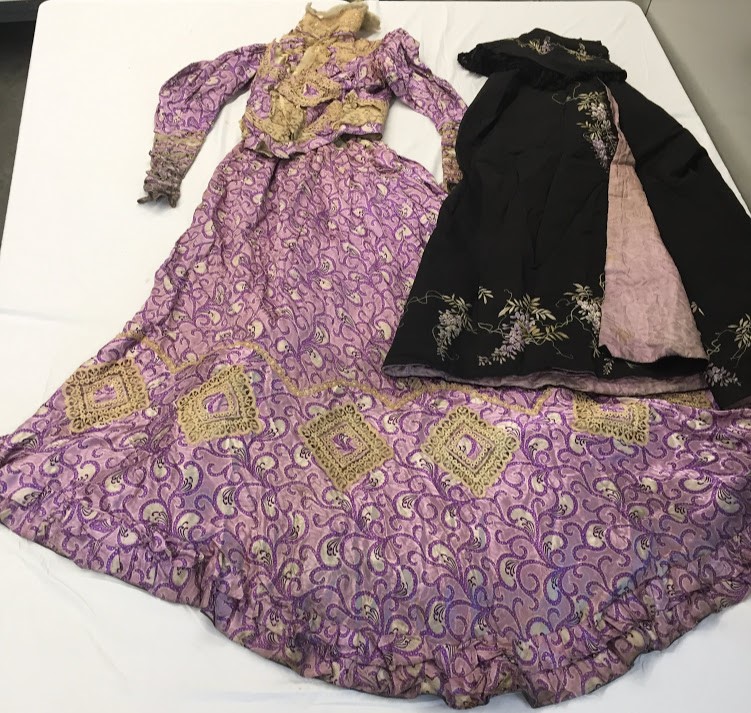 Image: Dress and cape made by Louisville modiste, Madame Grunder (1846-1920), circa 1897 worn by Laura Jeannette Graham Husbands (1857-1950.
This week's blog post is by Brooks Vessels, University of Louisville Commonwealth Center for Humanities and Society Intern:
I was not sure what to expect when I arrived for my first day interning at the Filson Historical Society, but I was certainly not aware that I was about to enter my childhood fantasy. I stepped off of the elevator into the collections room and was faced with a wall of garment boxes. Floor to ceiling shelves with boxes containing dresses I could only imagine in my dreams. The first box I opened felt like Christmas morning; we unearthed dresses, stockings, bags, and lace hankies tucked carefully between layers and layers of tissue paper. Some of the dresses we unearthed were of quality I had only ever seen in museums, and I got to touch them! We spent hours laboring over each meticulous detail in the garments, noting everything from the waist size to the type of lace detailing on a collar or hem. My inner child, who would spend hours traipsing through the house in my grandmother's old dresses, was jumping for joy.
I have had a fascination with fashion and textiles since I was a small child, and I have carried that fascination with me into adulthood. As a textiles and costume design student at the University of Louisville, I have spent quite a bit of time thinking about, looking at, and making clothes, but nothing could have prepared me for the work I would be doing at the Filson. Within the first few weeks of my internship, I was able to look at a garment and tell you what decade it was from, what fabric it was made of, and what kind of woman may have worn that dress. As the weeks have progressed, we have unearthed garments spanning over 130 years. From a hand sewn wedding dress worn in 1837 to a cocktail dress from the 1960's, there is no shortage of surprises when I show up for work. My supervisor, Maureen, and I would often have to stop mid inventory to do a frantic library and google search of a textile or technique that we had never seen before.
I had no idea there were so many fashion techniques that have been lost through time, and it has served as an inspiration for me in my own work. I am in a costuming class this semester where the entire course is spent creating a single garment. Shortly after I began constructing my costume (a civil war era ball gown) we stumbled across a dress from the very same time period! Maureen allowed me the proper amount of time to gawk, as well as take detailed notes of the construction and style of the dress, and later I was able to draft a pattern directly from the original garment.
The textile and clothing collection has also opened my eyes to the incredible women designers who worked in Louisville during the early 20th century. Women such as Madame Grunder (who had to put a disclaimer in the newspaper alerting her clients that her business was woman owned) have shown me that Kentucky girls really can make it in the world of fashion. The strife they have faced to pave the way for women designers today has been truly inspiring. As I approach my undergraduate thesis show, I am keeping in mind all that I have seen at the Filson.
Brooks Vessels is a Fine Arts undergraduate at the University of Louisville, majoring in Fibers and Printmaking with a minor in French.