Thanksgiving Classics: Pies, Sides & Turkey Roasting How-Tos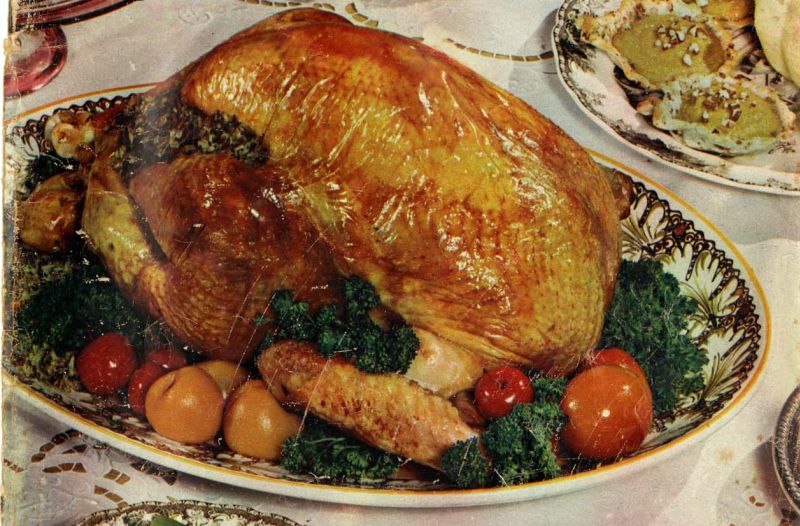 With Thanksgiving (my favorite holiday!) just nine days (!) away, I decided it's high time to share some holiday-inspired recipes.
The following recipes come from a November 1959 Courier-Journal  special section titled "Cissy Gregg's Cookbook." Cissy was a long-time C-J columnist whose recipes appeared daily in a column titled "Cissy Gregg's Cookbook and Guide to Gracious Living." This column ran from 1942-1963. Interesting to note: Cissy's column was the first magazine section to utilize color. Today, her columns occasionally still appear within the Courier-Journal.
In 1996 Cissy was added to the Kentucky Commission of Women's "Kentucky Women Remembered" award and exhibit.
Cissy was the wife of Louisville architect Edd R. Gregg; the couple met while studying at the University of Kentucky. Here at The Filson we have a small collection of Edd's architectural work [Mss./AR/G819] and a handful of special edition C-J magazines featuring Cissy's recipes [uncatalogued].
The following recipes are transcribed as found in the 1959 issue, my added commentary (naturally, ha!) is found italicized and in parenthesis.
First, let's start with Thanksgiving 101:
How to Roast Turkey 
Correct roasting is slow cooking by dry heat on a rack in an open pan. It requires no water, no pan cover and no searing. Always complete roasting in one continuous cooking period.
A shallow open pan allows the heat to circulate around the bird, roasting it evenly. A rack at least 1/2-inch high raises the bird off the bottom of the pan, keeping it out of the juices. Follow these simple steps.
Have the bird completely clean, inside and out. Rinse with cold water. Pat dry.
Turn on oven at 325 degrees to preheat.
Rub cavity of bird lightly with salt.
Fill wishbone area (neck) with stuffing.
Fasten neck skin to back with skewer.
Stuff cavity well, but lightly.
Push drumsticks under band of skin at tail; or tie them to tail.
Brush skin lightly with fat.
Place on rack in roasting pan and put in preheated slow oven (Slow oven? Add this to my 'to-Google' list...).
If desired, baste or brush occasionally with pan drippings--especially any dry areas. When turkey is 2/3 done cut trussing cord or bridge of skin at drumsticks. Roast until tender. It is done when meat at thickest part of drumstick feels very soft. This timetable is a guide to the approximate total time.
Time Table--325 degree (slow) Oven
6 to 8 lbs. --- 3 1/2 to 4 hours
8 to 12 lbs. --- 4 to 4 1/2 hours
12 to 16 lbs. --- 4 1/2 to 5 1/2 hours
16 to 20 lbs. --- 5 1/2 to 7 hours
20 to 24 lbs. --- 7 to 8 1/2 hours
If the label on the turkey purchased contains specific instructions for cooking that particular brand and style, follow all label instructions.
Now, if you want to see what this comes out looking like, just take a peek at the bird on our cover. That's him. (See cover image, below)
Thanksgiving dinner isn't until 3pm, you've got to eat something to tide you over, right? Cissy has that covered, too:
Asparagus Cheese Strata
2 1/2 cups milk
1 pound fresh asparagus (fresh-frozen or canned)
1 1/2 cups shredded cheese
4 eggs
8 slices of bread on the stale side
2 tablespoons minced onions
1 1/2 teaspoons salt
1/8 teaspoon pepper
2 tablespoons butter or margarine, melted
Remove crusts from bread slices and cut bread into cubes. Arrange half the bread in the bottom of a buttered 10x6x2 inch baking dish.
Cover the bread with the fresh or fresh-frozen cooked asparagus, cut in pieces, and sprinkle with the shredded cheese. Cover with remaining bread.
Beat eggs slightly and add milk, minced onion, seasonings and butter. Pour over the mixture in dish and let stand for 20 minutes (if it were me, I'd refrigerate it overnight). 
Bake in moderate oven (similar to a slow oven, perhaps?), 325 degrees, for 45-50 minutes or until puffed and lightly browned. Serve at once (with hot sauce!). This recipe makes about 6 servings.
And we all know that a Thanksgiving without pie is no Thanksgiving at all, so: PIE!
Pecan Pie Shell and Pumpkin Pie
Shell
1/2 cup less 1 tablespoon of vegetable shortening (let's be honest people: BUTTER)
1 tablespoon boiling water
2 tablespoons buttermilk
1 1/4 cups sifted all-purpose flour
1/2 teaspoon salt
4 tablespoons chopped pecans
Put the vegetable shortening in a mixing bowl.
Add boiling water and buttermilk and whip with a fork until all the liquid is absorbed and a thick, smooth mixture is formed. Sift (every holiday my mom insists that we do, in fact, sift the flour. oooy. love you, mom!) flour and salt together onto the vegetable shortening, whip and stir quickly into the dough. Pick up and work into a smooth dough, shape into a flat round. Roll between two 12-inch squares of waxed paper into a circle 1/8-inch thick and about size of paper. Peel off top paper, sprinkle 2 tablespoons chopped pecans over pastry, leaving about 1-inch border plain. Re-cover with paper and gently roll pecans into dough. Turn pastry and paper over and repeat processes, rolling in remaining 2 tablespoons pecans. Peel off top paper, place pastry in 9-inch pie pan, pastry next to pan. Remove paper, fit pastry into pan, trim 1/2-inch beyond pan, turn back even with edge of pan. Flute rim. Prick shell all over with fork. Bake in a very hot oven 450 degrees, 14 to 19 minutes.
Pumpkin Pie
1 1/2 cups canned pumpkin (or fix your own)
3 eggs
1 cup brown sugar, finely packed
1/2 teaspoon salt
1 teaspoon cinnamon
1/2 teaspoon ginger
1/4 teaspoon mace
1 1/3 cups undiluted evaporated milk
1 baked pie shell
Heat pumpkin in saucepan over low heat 10 minutes, stirring constantly. Beat eggs slightly in mixing bowl. Stir in brown sugar, salt, spices and pumpkin. Add milk and stir. Pour mixture into buttered 9-inch pie pan and set pan in shallow baking pan containing hot water. Bake in moderate oven, 350 degrees for 50 to 60 minutes, on until knife inserted into center comes out clean. Let cool on wire rack; do not refrigerate to hasten cooling (noted!). Make and bake the pecan shell with a flat rim. Let cool. When both filling and pie shell are cold, loosen filling thoroughly from sides of pan with spatula; then shake gently to loosen filling from bottom. Slide filling quickly into pie shell. Serve with ice cream, hard sauce or a sharp cheese.
We thought all this sliding of filling from pan to pastry wasn't too good an idea for most of us. We cooked ours as a pumpkin custard (because custard-making was standard knowledge in 1959...) and filled the shells. It had a wonderful flavor and no droopy crust underneath.
Now, what to do with all those turkey leftovers? Wonder no more!
Turkey Hash 
4 cups medium white sauce
3 cup diced turkey or chicken
1/2 cup finely diced cooked potatoes (seems like a good place to substitute some sweet potatoes!)
1/2 cup finely diced cooked carrots
1/2 cup finely diced cooked celery
salt & pepper
Of course (Oh right! Of course...) the medium white sauce is made on the basis of 2 tablespoons butter or margarine, and 2 tablespoons flour per cup of milk.
For this 4 cups of white sauce, you will need 8 tablespoons butter or margarine and 8 tablespoons flour for the 4 cups of milk. When the butter is melted and the flour blended in, the milk should be added gradually, and the cooking is done either over hot water in the top of a double boiler, or in a heavy saucepan (perfect time to whip out the dutch oven). In either case the stirring goes on constantly so the sauce will be smooth like satin.
When the sauce has been completed, add the other ingredients and mix together gently. Place in a buttered casserole, a keep hot dish or a chafing dish, and set in the oven at 350 degrees until thoroughly hot.
If you wish, a little Parmesan cheese (YUP) may be sprinkled over the top of the hash before the final baking. It isn't necessary, but makes it mighty good. This is enough for 10 servings with plenty of batter cakes.