Through a Soldier's Lens, Part 2: Rooming with Napoleon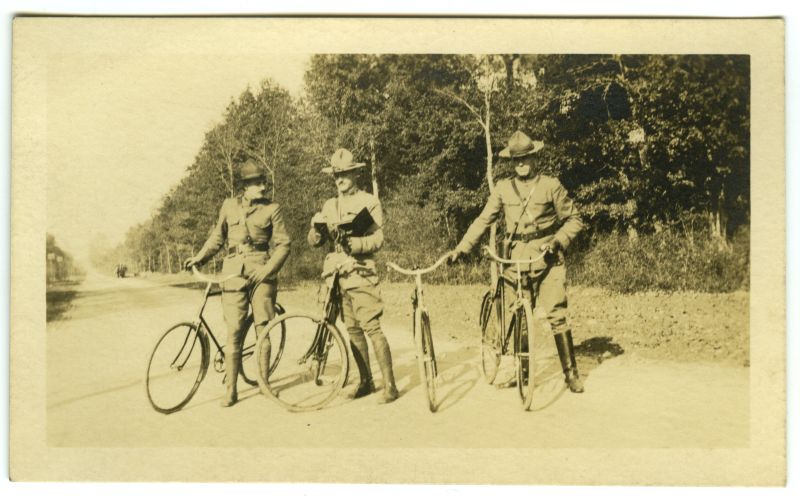 Through a Soldier's Lens: Jack Speed's WWI Photography is currently on exhibit in the Filson's Nash gallery. The exhibit runs through July 27, 2018 and showcases the photographs of Jack Speed, a young soldier from Louisville, Kentucky who served in World War I. In this second installment of a four-part series, we look at several images Jack captured during cycling trips in France. On one excursion, Jack spent the night at Hotel Montereau, rumored to be a place where Napoleon Bonaparte had once slept.
Rooming with Napoleon: Leisure in France through the eyes of Jack Speed
By Hannah Melvin, Commonwealth Center for Humanities and Society Intern
As a warm cast of spring arrives, we all enjoy peaking outside after months of hibernation. Especially after the freeze we had this year! We can once again embark on outdoor activities with friends such as hiking and biking, even traveling to Red River Gorge or National Parks to do so, without the fear of frostbite.  I for one am excited.
This desire to explore and travel in our leisure time is not unique to today. During World War I, some soldiers like John "Jack" Speed, were able to express an interest in adventure. Jack was stationed in Fontainebleau, France and attended an artillery school called the Ecole Militaire d'Artillerie. During that time, he wrote to his family about his experiences, including his tourist adventure bike riding in France.  In the personal time he was given, Jack wrote to his mother about bicycle trips around the Seine River and the interesting places it led them.
After an evening of bicycling, Jack told his mother that he and his friends stayed at a hotel with a room known as "Napoleon's bedroom". Could you imagine? Sleeping in the same bed as "Nap" in a quaint hotel in Montereau, France would be astounding.
Where was this hotel?  Does it still exist? I attempted to answer these questions in any way I knew possible. Jack said they rode their bikes for 15 kilometers the first night from Fontainebleau to Montereau along the Seine River and then arrived at Hotel Montereau. This definitely narrowed my search. After some suspicion that it had been renamed Hotel Napoleon, I quickly realized the only Hotel Napoleon I could find was a chain business, having locations across Europe and The United States. I then attempted to look with that distance that advertised that Napoleon had stayed there, but without success.
Although, I personally expected a hotel to advertise the presence of Napoleon with all marketing possible, I could not find one that did.  I checked French online archives to see if I could find any record of this hotel besides Jack's letters. I afraid to say I had no result.  As a last effort, I searched for a church Jack described to be nearby. Jack included the year this "beautiful "church was built [1643] so I had hope. Despite his vivid description, I still failed. (It is possible that the great story Jack told his mother was a legend. In fact, I have personally experienced that although some hotels advertise that presidents have spent the night there, it does not always hold value.)  Sometimes this happens, where there is no research available to find connections. Perhaps this information has a home somewhere, just not online.
With his camera, Jack Speed captured not only jarring images of war, but also the beauty of French geography. He expressed the latter on his impressively long bicycle trips exploring the outdoors and French culture. Luckily, Jack photographed his experiences for all our curiosity.