Through A Soldier's Lens, Part 1: Château de Fontainebleau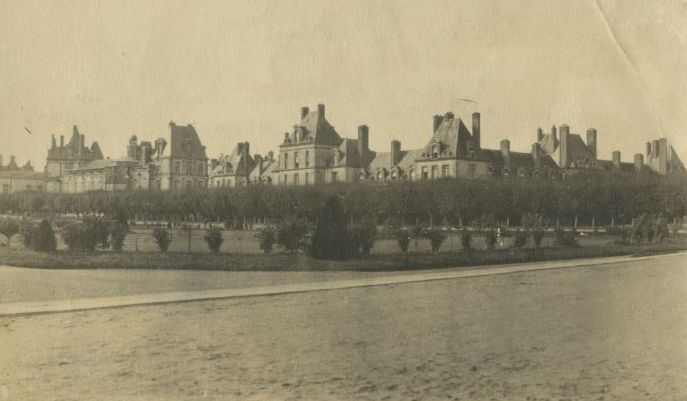 We're excited to announce the opening of Through a Soldier's Lens: Jack Speed's WWI Photography at the Filson, this Friday, April 6. The exhibit will run from April 6-July 27, 2018 and will showcase the photographs of Jack Speed, a young soldier from Louisville, Kentucky who served in World War I. In this first installment of a four-part series, we look at several images of the Château de Fontainebleau in France. Jack photographed these scenes in his off-duty hours during artillery training.
Château de Fontainebleau: An Art Historical Wonder
By Hannah Melvin, Commonwealth Center for Humanities and Society Intern
As an art student, I have become fascinated with Jack Speed for not only his collection of photographs, but also the content of them. Specifically, I hold an interest in French architecture that has withstood centuries, encapsulated in little moments photographed by Jack in 1917-1918. The Château de Fontainebleau, also known as Palais de Fontainebleau, is an example of this. This beautiful palace showcases French architecture from the 12th through 19th centuries.  How incredible is that? It is a mix of Gothic, Renaissance and other architecture styles: all combined in this expansive piece of art history.
The varying architectural styles are very much due to the royalty that passed through the Château's halls. The keep, or central tower, of Louis VII dates to 1137 and is in the medieval style. While the keep is easily visible, other mementos of this style are located in the more secluded corridors of the palace. There is a neo-Gothic hallway on the ground floor called Vestibule Saint Louis. Many of the other Gothic structures have been torn down and rebuilt in later centuries, like the current Chapel of Trinity. Other Gothic representations, such a monastery hospital, were never restored.
However, it could be said that the most change to Château de Fontainebleau occurred during the Renaissance. (To those who are unfamiliar with the specifics, the Renaissance refers to a rebirth of Greek and Roman style of art and architecture that occurred in the late 13th and 14th centuries.) Renovations were designed by four different architects -- Sebastiano Serlio, Philibert de l'Orme, Gilles Le Breton, and Jean Bullant -- most with an Italian mannerist and High Renaissance background. King Francis I employed them to design major building extensions and hired Italian artists for many decorative works like sculptures and paintings. The extensions included a new gallery, a private area for the king close to his bedroom. Francis I added multiple buildings and reconstructed some areas like the royal chapel, thus expanding Palais de Fontainebleau.
The reconstruction of Palais de Fontainebleau continued as rule changed. Henry IV also significantly expanded the palace during the 17th century, leaving it in the style that Jack Speed would have witnessed a few centuries later. The addition included a canal, courtyards and gardens, furthering its embellishment. Many royals of Europe stayed there, such as Louis XV, Louis XVI, and Napoleon I. They continued to restore, reconstruct and refurbish the palace.
It is truly fascinating to not only witness the grandeur of the art held within the palace walls, but also the significant history of France's royalty and government that occurred there as well.
This was definitely a treasure to find in our Jack Speed Photograph collection!
Views of Château de Fontainebleau, 1917-1918:
Views of the Château today: