The Path of Totality: Experiencing Kentucky's Darkest Day 2017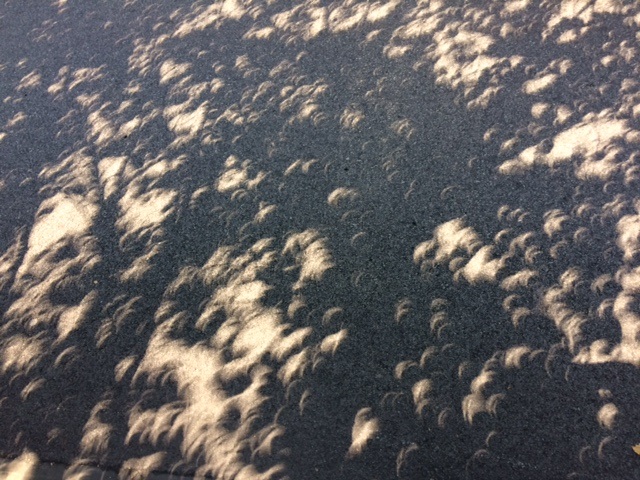 [Shadows at the start of the Eclipse]
I must admit, while many people planned their trip to see the 2017 Total Eclipse for months if not years, I didn't even know about it until a few months prior. Once I found out the path of totality was going straight through Kentucky my husband Brendan and I decided, let's go! We marked our calendar and began exploring the map to see where we should go to view it. At first, we thought about Bowling Green because my sister is at WKU right now and Brendan has roots there. However, everything I read said that if you are going to experience a total eclipse you must go to the path of totality. If not, it's like going to the Super Bowl and not going into the stadium. It turned out that Bowling Green was on the outskirts of the path, so it got scratched. Next, we considered Hopkinsville since everyone said that was the best spot to view it in the Commonwealth. Now keep in mind we were a month out, I googled Hopkinsville and they had a whole webpage devoted to the eclipse. The city was selling viewing spots and by that point many were booked—it was eclipse madness! We didn't want to have to pay to see a natural wonder so we scratched Hopkinsville as well and went back to the map. We began exploring smaller towns outside of Hopkinsville and landed on Russellville. SIDE NOTE: Brendan had just unearthed that he had family ties in Russellville and hoped to find a gravestone at a local cemetery. Russellville it was.
Now that we had our location, next we had to plan our excursion. Louisville to Russellville is a two hour and fifteen-minute drive, but the news kept warning travelers that traffic was going to be horrible. The evening before we decided to leave early and if we got down there with no problem we could hang out and do some genealogy! I packed a picnic, our solar eclipse glasses that we scored from our friend (Thanks Kate!), blankets, lawn chairs, and books to read.
The day we had been waiting for, August 21, 2017, we woke up around 5 am and were out of the house and on the road by 6 am. We cruised down to Russellville with no problem and parked right on the square. At that point we didn't really have a plan for where we were going to view the eclipse and decided to see how the day went. We walked around the cute little downtown and stumbled upon the Logan County Chamber of Commerce. The woman working there was extremely friendly and very helpful. She gave us a map of the city, told us how to walk to the cemetery, and what was happening in town.
Our first stop was the cemetery for a little genealogy. On the way back to town we wandered through Historic Russellville stopping by the Major Richard Bibb House—a Revolutionary War officer built the house in 1820; the Logan County Courthouse—built in 1904, this is Logan County's third courthouse; and the Southern Bank of Kentucky—built in 1857 and most notably known for being robbed by the Jesse James Gang in 1868.  We fully enjoyed our time exploring Russellville prior to the total eclipse.
Leading up to the day I tracked the eclipse via the Smithsonian Solar Eclipse app which provided a countdown to when the eclipse would hit the west coast and allowed you to put in your exact location to determine the specific time it would hit your location in the US.
Around 1 o'clock we threw our blanket out at Carrico Park in the heart of downtown Russellville and began eating our lunch. There we were in the park with a bunch of other people and we started hearing people say, "It's starting!" We put our glasses on, looked up and sure enough the moon was slowly moving in front of the sun. We went back and forth looking at the sun with our glasses until I suddenly thought I was wearing my sunglasses, but I wasn't. The cicadas began singing, it slowly started getting darker, the street lights popped on, and the temperature shifted from 90+ degrees (scorching hot) to a mild, cool summer day. And then it happened: a few minutes before 1:30—a TOTAL ECLIPSE!
Words can't describe the feeling that swept across Carrico Park in the heart of downtown Russellville, Kentucky. You could feel the excitement and energy, people were cheering and singing. For a full two minutes and twenty-eight seconds the moon fully covered the sun and had a magical glow. And then POOF, just like that it was done; the temperature rose back to full afternoon heat and it was over. We stood there a bit dazed about what we just witnessed. We were almost giddy; we took our time getting out of town. Since we were in the neighborhood we also decided to stop at McCutchen Meadows in Auburn, Kentucky on the way out of town (more genealogy!). Brendan's 6th great-grandfather, John McCutchen received a land grant from the revolutionary war in Auburn. McCutchen's widow Elizabeth Weir McCutchen built McCutchen Meadows in 1825. We were fortunate to meet the current owner of the home, who gave us a tour and allowed us to visit the private cemetery on property. We had hoped that this small detour would maybe allow time for the traffic to die down, but boy were we wrong!
It took us over 5 hours to get home (remember it is only a 2.25 hour drive). At one point we waited an hour to get onto I-65 in Elizabethtown to realize that the I-65 ramp was closed and there was a detour. At that point we made the decision to take 31 W home and surprisingly it was smooth sailing. Even though the traffic was treacherous, it was worth it. We will never forget August 21, 2017—Kentucky's Darkest Day.