Ah, the Dresden Plate. A pattern that looks fairly complicated but actually isn't. This type of pattern is one of my favorites, simply because it's easy but not boring. You get to play with a fun template, there's lots of ironing, and it looks pretty cool when you are done. You might be wondering why I'm telling you the virtues of this pattern, and it's because I found a beautiful example of one in our collections!
Quilt, cotton, Dresden plate-type pattern, circa 1930-1990. From The Filson Historical Society's Artifact collection [1991.28]
The quilt show above is from The Filson Historical Society's Artifact Collection. It was donated in 1991 under the provenance of George R. Olmstead, but a specific date for when it was quilted is not available. We believe that this quilt was made in the early 1930s, which fits right in with the popularity of the pattern at that time. This quilt is made out of cotton and the fabrics look very similar to reproduction 1930s fabrics that you see today.
The Dresden Plate is characterized by blocks of fabric appliquéd to a backing in a radiating petal pattern. This is more representative of a flower rather than a plate, so other names for this pattern are Aster, Dahlia, Sunflower, Friendship Ring, and Grandmother's Sunburst, all of which coincide with the floral appearance. Some variations of the pattern include flat edges rather than the customary point or rounded petal shape at the ends.
I actually made a Dresden Plate square several years ago. It was right before I started my job at The Filson and I was looking for ways to fill my time. The quilt shown below was actually claimed by my cat Autumn for a number of years before I finally hung it on the wall. So yes, I may be the crazy cat lady who makes quilts for my cats. She could be found either sleeping on top of it or snuggled under it as a young kitty and I didn't have the heart to boot her off of it for some time.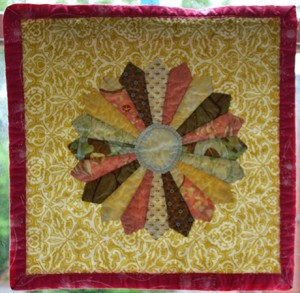 Overall, I really enjoy this pattern and seeing all the beautiful variations out there, including the quilt featured in our collections.