The Case of the Avaricious Businesswoman
It was a mundane Monday morning in the archives. I had just started a new project and was sorting the records of a nursing home for the elderly in Louisville. I was surrounded (quite literally) by stacks of meeting minutes, reports, and financial records. If it sounds a bit snooze-worthy, it wouldn't be far from the truth.
But then I came across this: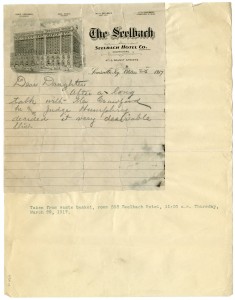 Well, that was really strange. There was a whole stack of similar scraps of paper, each carefully pasted back together, many with the date and place of recovery noted. And then I found this: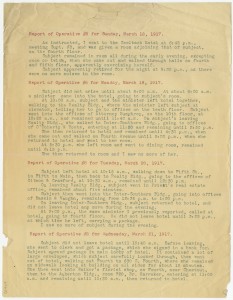 Now, I've always loved a good detective story. I've read my way through stacks of Agatha Christie novels. At one point, I owned the complete multi-volume set of Sherlock Holmes stories by Sir Arthur Conan Doyle. As soon as I came across the operative report, I knew something was afoot. Clearly, someone was being spied upon. The hair on the back of my neck started to stand on end.
I immediately shared my finds with my coworkers and we started to speculate on why this woman, a Mrs. O. S. Warren, was being followed. Perhaps she was having an extramarital affair, and her jealous husband was having her tailed. Or perhaps she was a suspicious character -- a person of interest, if you will -- and the U.S. government wanted to track her whereabouts. It was March 1917, after all, just one month before the U.S. declared war on Germany.
The truth, as I discovered the deeper I delved into the collection, was a bit less sensational, but still fascinating in its own right. The founder of the home for the elderly, Charles P. Moorman, was a retired distiller and a fabulously wealthy individual. Moorman died in February 1917, leaving behind much of his money to establish a home for Louisville's elderly, as well as several relatives disgruntled by how he had chosen to allocate his wealth. Among his surviving relations, there were some determined to mount a legal challenge to the will – this Mrs. O. S. Warren chief among them.
The newly established Board of Directors of the Moorman Home had a decided interest in upholding the terms of the will. Their meeting minutes from March 18, 1917 record the following:
"It was very evident to the Committee that Mrs. Warren was not here in Louisville for the purposes stated by her, but was here to take up the matter pertaining to Mr. Moorman's Will. It was moved…that the Committee employ Col. J. H. Haager to keep close watch on Mrs. Warren's movements and what she did with her time, who she visited, and who visited her."
Col. J. H. Haager was none other than Jacob H. Haager, former Chief of Police in Louisville and president of the Standard Detective Agency.  The Moorman Home Committee retained the services of Haager and the Standard Detective Agency for several months. In April 1917, Haager sent two operatives to Silver City, New Mexico, the hometown of Mrs. Warren. Their names were J. M. "Martin" MacDonald and Lillian W. McQueen, although the use of code names is so prevalent in the reports, it is hard to know if these are true names or aliases. The female operative would be the one tasked with infiltrating Mrs. Warren's insurance business in Silver City.
Detective work was especially tricky during this time. In a letter on April 11, 1917, Martin reported that all strangers in Silver City were regarded with suspicion on account of the war with Germany. Martin suggested that Haager send mail that could be left in the office of the Hotel, or in his room, for "U.S. secret agents" to read. He closed: "Have had to be very cautious here, but will leave here clean, nothing to suspect my efforts whatever."
Despite the challenges, Lillian obtained a position as Mrs. Warren's stenographer and worked in her office for several weeks. Her primary purpose appears to be to investigate Mrs. Warren's finances, confirming if her insurance business was indeed on the verge of bankruptcy. However, she also questioned the locals about Mrs. Warren and her family, gathering any information that might prove useful in the upcoming legal battle.
Her reports contain local accounts and rumors about Mrs. Warren's family and personal life, her standing in Silver City, and her dealings in the insurance business. Lillian wrote on April 20, 1917: "[Mrs. Warren is] considered a very shrewd, sharp woman, one that would take every advantage in a business way with anyone she had any dealings with. Notwithstanding these reports about her, everyone that I came in contact with seems to like her." The virulent anti-Semitism of the time is also evident. Rumors that Mrs. Warren might have Jewish ancestry were given a significance that most people today would find baffling. On April 20, 1917, Lillian reported, "We also learned that Mrs. Warren is considered to be a Russion [sic] Jewess, but we were unable to verify this from any source." On May 10, 1917, she reported still not being able to verify Mrs. Warren's ancestry and added: "She is not a member of the D.A.R. I showed her my pin and she proved by her talk that she was not eligible."
As I flipped through the letters and reports of these operatives, I found myself especially intrigued by Lillian McQueen. Was this even her real name? Who was this woman who was an undercover agent during World War I? What happened to her? But I suppose that will have to be a topic for another blog post. This one is definitely long enough already.
Interested in reading more about the exploits of the Standard Detective Agency's undercover operatives and the legal battle over Charles Moorman's will? The records of the Charles P. Moorman Home for Women are available for research at The Filson.