Success Stories: Student Researchers at The Filson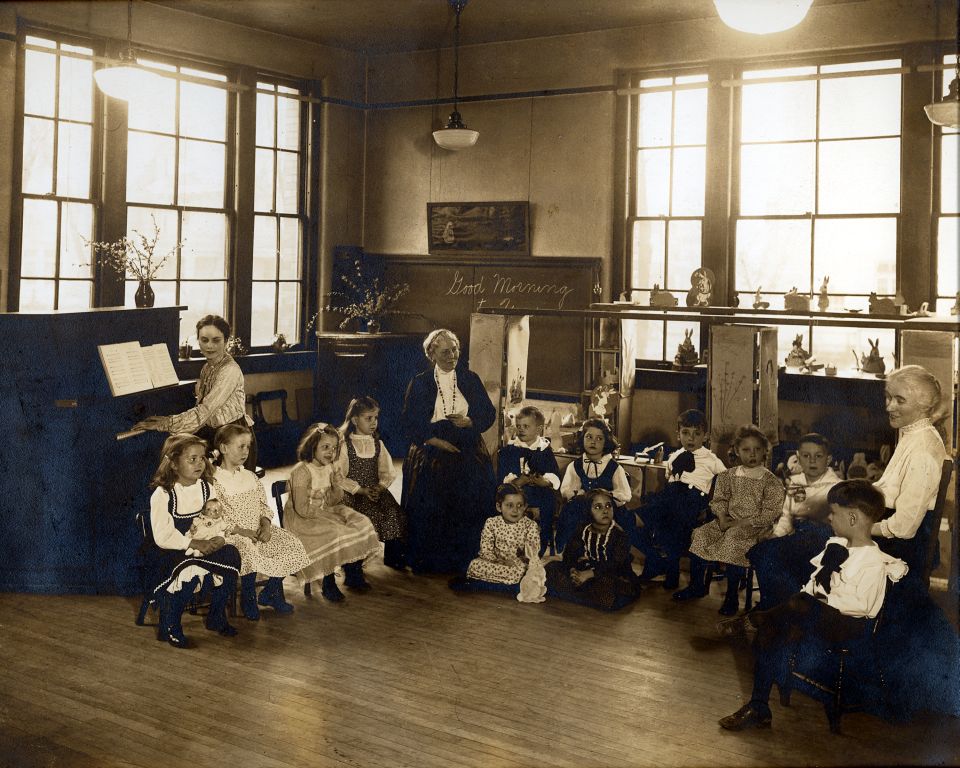 Filson researchers in the making! [Filson Photograph Collection - SCH-76 GR Clark School, n.d.]
Recently at The Filson we've undergone a tremendous amount of change, from moving not just our reading room from floor to floor (to floor, to floor…) but also rearranging our entire campus what with reception in another building entirely, as well as combining reference services (the merger of special collections and the library) and planning and preparing for grand opening events—all while staying open, mind you. Not to mention staffing changes. Needless to say, it's been quite a season. Heck, it's been quite a year. That said, it's easy (for me at least) to lose sight of why I'm here, why I like my job and why I changed careers to get here. So it seems to be that when the path to workplace happiness and job satisfaction are at their trickiest, that is when the little things make all the difference.
Lately for me those little things have come in the form of young visitors successfully visiting (sometimes for the first time) and researching in the archives. Last week alone I had the pleasure of working with a group of high school students, members of The Ballard High History Club, who, on their own time, dedicate themselves to a research project of their choosing. I also worked with a college student that upon arrival was convinced he'd never be able to decipher a handwritten letter but by the time he left had gotten through more than a handful of letters.
Another example of researcher success comes from Leila Kamousi. In late 2015 Dr. Mattes, Visiting Assistant Professor of English at The University of Louisville brought his Literature of the American Enlightenment class into The Filson to research. In her own words, here is Leila's experience:
My name is Leila Kamousi, and I am a senior at the University of Louisville working toward getting my bachelor's degree in English and a master's degree in Education. My experience at The Filson was definitely one that I have never had before, as I had never been to an archival research library that specialized in historical topics around my city. I recently took a course in American literature and cultural history that required a research paper on a topic related to the American Enlightenment. I chose to dig deeper into Olaudah Equiano's critical reading of the freedoms and "unfreedoms" found in society's laws and God's laws. In order to find some good primary sources to support this analysis, I went to The Filson's archives and looked for materials related to slaves' relationships with owners during the eighteenth and early nineteenth centuries.
At first I had no idea what to start looking for or how to start my research, but that was not a problem for long because I had tremendous help from Johna Picco at the front desk. She talked me though how to use the card catalog, and she pulled numerous search aids to help me develop keyword searches, all of which helped me flesh out the general parameters of my paper. After I had picked a few items from the special collections and filled out the proper request forms, she took me into the reading room where I could sit down at a large, open table and spread out my papers and focus on my research. The documents I requested were brought out two at a time and if I found anything that I wanted to copy, a collections librarian would make the copies for me while I continued my research. I rarely got out of my seat and could take as long as I wanted with a specific piece. Before handling the documents, I was given lengthy directions on how to handle the old papers, and I am so grateful for these instructions because I had never handled any document as old and fragile before.
When I was leaving, Johna also mentioned a great secondary source that I could use for my paper, which was held in the library's general collections. Since The Filson's library isn't a lending library, she quickly searched the catalogs of local libraries to ensure that there was a way for me to get the book right away, which I did!
All in all, research at The Filson is a wonderful experience that I would highly recommend to anyone in need of conducting extensive historical work. The staff is welcoming and more than happy to help guide your research in any way that they can. There is nothing quite like working with original documents, touching them with your hands, and reading it up close.