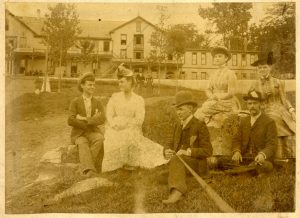 Our photograph and print collection contains approximately 100,000 items dating from the 1840s to the present documenting agriculture, commerce and industry, transportation, politics, family histories, Ohio River history, and aspects of social and cultural histories from the Ohio River Valley and abroad.
If you have a research question pertaining to our Photograph and Print Collections please contact Heather J. Potter, Curator of Photographs and Prints.
Access Tools
PastPerfect, an in-house, keyword searchable computer database which includes subject photographs, individuals, family collections, institutional collections, business collections, prints, and films.  A portion of this database is now available online; more images will be added regularly!  Please visit: http://filson.pastperfectonline.com/.
Photograph Collection Finding Aids and Collection Lists
(Click on the collection name to view an inventory. Selected collections are available online as noted)
All-Prayer Foundlings' Home Lantern Slide Collection, 1904-1931
Mona Von Bismarck Photograph Collection List, 1860s-1960s
Breckinridge Family Photograph Collection, 1865-1915
Brown-Walker Family Photograph Collection List, 1900-1965
Buford-Duke Family Photograph Album Index, 1860s
H. C. Ganter Lantern Slides of Mammoth Cave and Vicinity, 1889 and ca. 1890s *Available online*
Stratton O. Hammon Architectural Photograph Collection List, 1930-1960
Hert-Aley Family Photograph Collection, 1880-1950
Arthur E. Hopkins Steamboat Photograph Collection, 1890-1944
Edward & Josephine Kemp Lantern Slide Collection, 1804-1930 *Available online*
Little-Bockhofer-Canaday Family Photograph Collection, 1889-1929
Louisville Municipal Bridge Photograph Collection, 1928-1929
Louisville Railway Company Photograph Collection, 1880s-1950s
Lusby Family Photograph Collection, 1870-mid 1950  *Portion Available online*
Marshall-Turner-Clay-McDowell Photograph Albums, 1860-1900s
Mrs. E. Crawford Meyer 1945 Flood Photograph Collection *Available online*
National City Bank Print Collection, 1860s-1975
Samuel Plato Photograph Collection List, 1885-1960
Prince Charles Photograph Collection, 2015 *Available online*
Margaret Smith Photograph Collection, 1900-1977 *Available online*
Speed Family Photograph Collection, 1915-1955
Rogers Clark Ballard Thruston Photograph Collection, 1887-1945
Rogers Clark Ballard Thruston Mountain Photograph Collection, 1882-1887 *Available online*