Sharing the Stories of WWI: The Adventures of Spafford Ackerly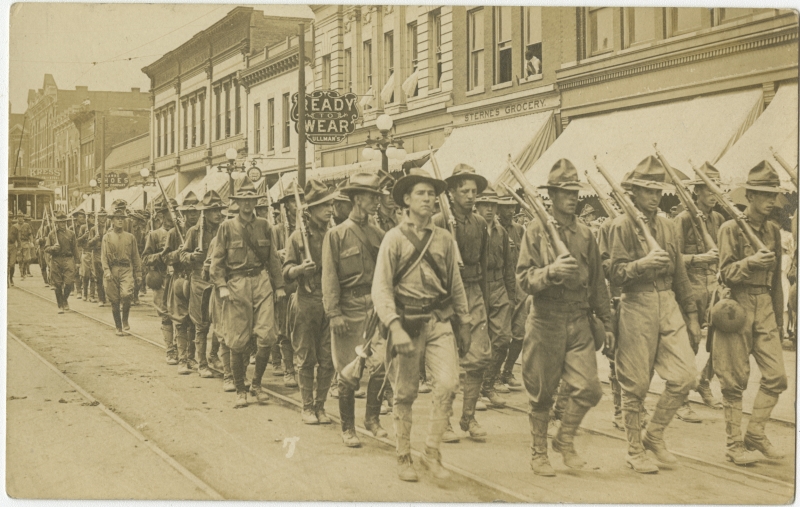 Have you heard about the Filson's new World War I exhibits?  Called to Arms: Kentuckians in the First World War and Selling the War: Posters from WWI are both open to the public by guided tour. Now that the frenzied preparations for the opening are over, I'm excited to guide visitors through the completed exhibit spaces.  I think the best part of exhibit work will be sharing the stories of individuals who lived through the First World War.
Of course, there are so many stories that could be told.  One frustration that we as curators encountered in preparing these exhibits was our space limitations.  We simply had too much material to display – a much better problem to have than too little, I suppose.  I decided that this blog would be a great opportunity to share the story of a person that we couldn't highlight in the exhibit.
A native of Brooklyn, New York, Samuel "Spafford" Ackerly was eager to join the army when the U.S. entered the war in 1917.  Ackerly trained in Spartanburg, South Carolina, but was dismayed when his rifle was taken away and he was instead assigned to play cornet with the company band.  Discovering that his commanding officer was a lawyer by trade, Ackerly quickly got in touch with his own lawyer father and was soon reassigned to a Trench Mortar platoon as he desired.
Ackerly arrived in France in 1918 where he soon experienced combat and was wounded in action, taking a bullet in the leg.  A comrade helped him to safety, later dying in Ackerly's arms when a German bullet struck him just below his helmet.  Captured by the Germans, Ackerly was briefly buried alive by artillery fire from his own side.  He was transported to the city of Cologne, where he remained a prisoner for the remainder of the war.  The Germans had little food to spare for their prisoners – Ackerly weighed a mere 80 pounds when he was transferred to a hospital in London at the end of the war.
Ackerly arrived back in the U.S. in 1919, but still faced a lengthy recuperation in the hospital for his leg injury, a process with which he eventually grew tired.  With his leg still in a brace, he stowed away on a whim aboard a ship full of athletes bound for the 1920 Olympic Games in Belgium!  With only $2.50 and change in his pocket, he found work aboard the ship as a bugler and masseuse to the athletes.  After a brief stint in the brig, he made it off the boat and watched the Games in Antwerp, traveled for several weeks in France, and visited the grave of a fellow soldier, before finally catching up with the athletes for the return trip home.
Ackerly's story was one that stuck with me.  I'm glad too, because I happened to meet Ackerly's daughter when I gave a guided tour of our exhibit last week!  It was neat to talk about her father's military service and laugh about his exploits in Belgium.  She shared with me that her family is still in contact with the family of the nurse who cared for him while he was in the hospital in London.  Connecting with Ackerly's daughter was a rewarding experience -- one of many such experiences that we will have in the upcoming weeks, I'm sure.  As a curator of the Filson's collections, I'm grateful to the individuals who have chosen to donate their materials to us and thankful for the opportunity to share their stories.