Mournful Tunes: Remembering the Death of Abraham Lincoln through Music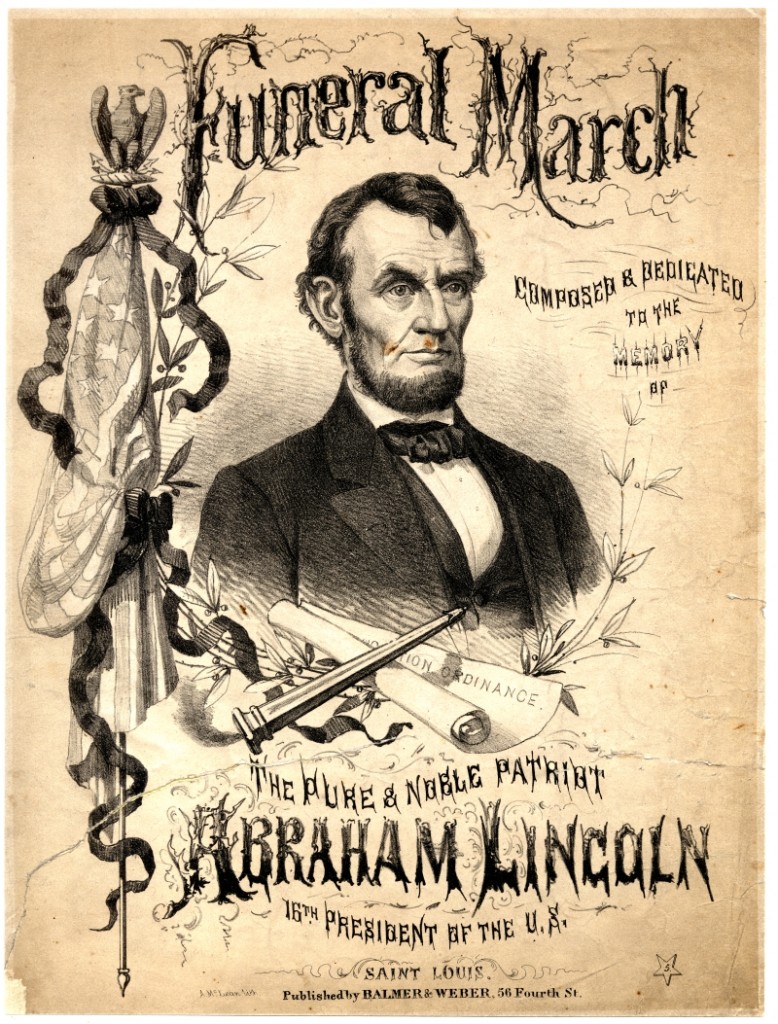 150 years ago today, John Wilkes Booth shot President Abraham Lincoln at Ford's Theatre.  Lincoln died the following day on April 15, 1865.  The 150th anniversary of such a momentous event requires some sort of acknowledgement of its passing.  (Or so I was informed when I was brainstorming ideas for this week's blog post!)
As I began sifting through the Filson's collection in search of Lincoln funeral memorabilia, I came across several pieces of sheet music.  The Filson has a wonderful collection of 19th and 20th century sheet music, and an especially fine collection of Civil War era music.  We also have several compositions, arranged for the piano, that commemorate the death of our nation's most famous president.  (You can find out more about our sheet music collection HERE.)
I've played piano since I was a young child, but consider myself an unexceptional pianist.  Mostly, I find that I rarely have the time to play anymore.  But one piece of music, in particular, caught my eye.  It was called Lincoln's Funeral March: Composed and Dedicated to the Memory of the Pure and Noble Patriot Abraham Lincoln and composed by E. C. Davis.  The cover was striking, with its detailed depiction of Lincoln and the twisted, gnarled letters of text.  The music itself seemed within my capabilities to learn how to play.  I copied the pages and took them home with me over the weekend.  Late one night (for what could be more fitting for funeral music?), I sat down and the sounds of a bygone time echoed through the hallways of my house.
The first few measures of music were a bit different than what I had been expecting.  They were loud.  The music was grand and formal – presidential even.  With its many notes and chords, my husband thought these first bars sounded a bit like an old hymn.  The music shifted in the following measures.  The mournful notes of the minor key really began to come out.  The music became softer and sadder.  I found myself strangely affected by these lines, which would become a common refrain throughout the rest of the piece.  They repeated themselves in my head long after I had stopped playing.  These lines evoked the feelings of regret and sorrow that many in our country must have felt after Lincoln's assassination.
Below, you can listen to a short segment of this music.
In addition to funerary music, the Filson has a number of other items commemorating the death of Abraham Lincoln.
As the man who guided our country through a tumultuous time and had such influence on the shape of our society today, it is only natural to take a few moments to remember his passing.