Meet Heather Potter: Curator of Photographs and Prints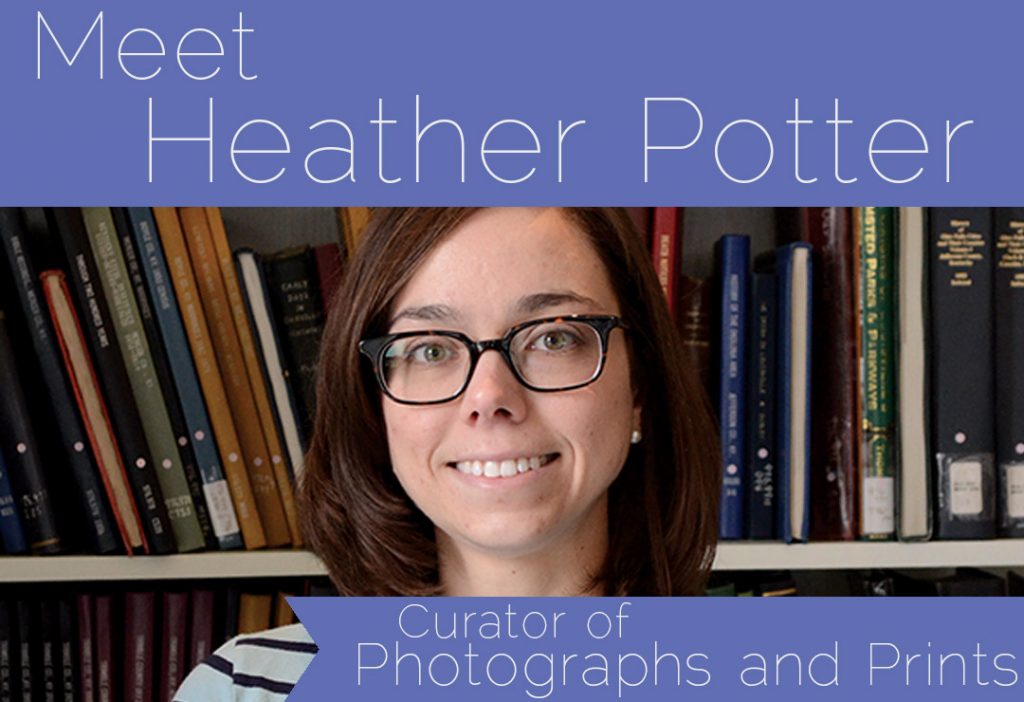 Pathway to The Filson
Heather Potter received her BA in History from Washburn University in Topeka, Kansas and her Master of Library Science with a special­ization in Archives and Records Management from Indiana University at Bloomington. She first started processing photo collections as a Master's student and worked as a Project Archivist for the Kentucky Folklife Program Archives at the Kentucky Historical Society prior to starting at the Filson in 2013. In 2017, she was named the Curator of Photographs and Prints.
Duties as Curator of Photographs and Prints
Heather performs reference, technical, and outreach services, with the additional duties of managing all rights and reproduction orders for the depart­ment. Heather also manages the PastPerfect Museum software which keeps our photos, prints, and museum items organized. In addi­tion to her regular duties, Heather also man­ages our volunteers and interns who work on photo orders and processing.
---
My favorite collection is the Rogers Clark Ballard Thruston Photograph Collection— it's the largest photograph collection housed at FHS with more than 20,000 photographic items spanning from the 1880s-1940s. Thrus­ton had an artistic eye and was extremely meticulous noting dates and locations on almost all of his images. I could easily spend hours thumbing through his photos, if time permitted.
The most interesting photo order I've received was a request to reproduce a pho­tograph of Countess Mona Von Bismarck for the Cartier Archives. Mona was wearing a piece of their jewelry. I have worked with fashion journalists, historical authors, the Smithsonian Channel etc. But the nerd inside of me came out that day, when I talked to the Cartier archivist. I didn't know that Cartier had an archive. I love jewelry and it was kind of fun to chat with another archivist about their materials. A fun day to get a call, "Oh, Cartier is on the phone for you!"
It was hard to choose between that and the day I received a call from Japan for a Patty and Mildred Smith Hill photograph that was used on national Japanese television. They wanted to reproduce the picture because they were talking about the "Happy Birthday" court case. The cool part was that they sent us the video clip and it was neat to see "FHS" credited.
I love a good history mystery and unearth­ing the stories of the Filson's photograph collections. We have such a diverse collec­tion I learn something new every day which makes my job extremely rewarding.
I am passionate about providing access to our collections. I enjoy getting to know our researchers and members, their research top­ics, and helping them find that missing link to their research project or family story.
Outside of The Filson, I enjoy knitting, cooking, gardening, and I really enjoy being outdoors and exploring the Kentucky Parks System, including being a tourist in our own state by exploring different Kentucky tourist attractions.
My favorite tourist attraction in Kentucky is probably Mammoth Cave, in part because of all of the history I've learned about the cave here at work and then going down there and exploring the caverns and hiking with that knowledge.
My favorite thing about Louisville is the jux­taposition of the city—we live in a major met­ropolitan area yet 20 minutes from my front door I can be lost in the middle of Jefferson Memorial Forest enjoying the great outdoors. It feels very rural, but you are still in the city. The modern skyscrapers of Louisville dominate the horizon, but a few blocks away we have the largest collection of Victorian era homes in the U.S. The mix of old and new is everywhere. I love that our city is rich in history and diversity. Plus it doesn't hurt that we have an amazing culinary arts scene. You can get whatever you want to eat here in Louisville, and there are new restaurants popping up all the time.
---
This article originally ran in the spring 2017 issue of The Filson newsmagazine and is part of an ongoing series.