4/3/1974: Where Were You?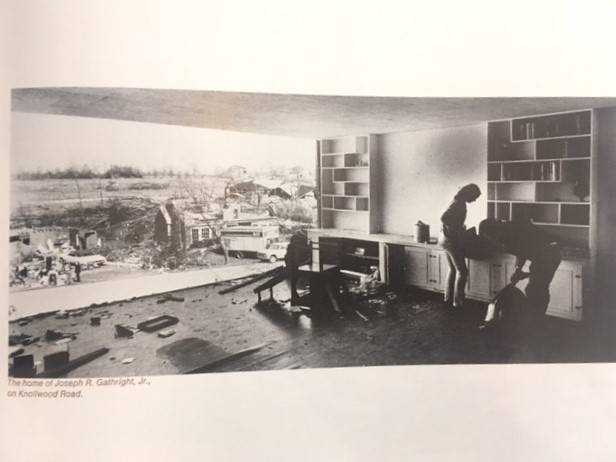 Suddenly the grass is too green. It is lush and inviting, but it isn't real. Outlines are sharply defined, and objects seem to leap out at you. The air is clear but there is a faintly pink cast to it. There is no breeze, and even the birds are silent. But it is a moment of ominous serenity. For nature is about to demonstrate its schizophrenia. It gives you a taste of heaven, and then it gives you hell. The light begins to fade, and the wind comes to life. Miles away the sky emits a fearsome growl, and spits a stream of lightning through its teeth.  - Richard Des Ruisseaux, The Louisville Times. 
The date was April 3, 1974 and by all early appearances, the weather was unremarkable. Initial forecasts for the area showed a chance of showers and thunderstorms—similar weather to that of the prior week .
By mid-morning, the forecast had changed. The first of nine WHAS severe-weather warning broadcasts came at 10:28 am. Again at 1:19. The warnings were pumped out in quick succession: 2:34, 2:54, 3:38, 3:47, 4:02. The last two warnings, issued at 4:26 and 4:36 made it clear: tornadoes were coming.
Not even an hour before Louisville would experience its own horror show, tornadoes ripped through southern Indiana, bringing unfathomable destruction and death in Palmyra and Madison.
Despite the warnings and storms to the north, many in Louisville were taken by surprise. Likely in part due to the sheer speed the storms descended upon Indiana, shocking its residents and leaving communications in shambles. Undoubtedly, the placement of tornado sirens (at the time Louisville had 10) and the tornado's path was also to fault: only two areas within hearing distance of the siren experienced the storm—the other eight likely only wondered what the unscheduled siren test was about.
Measured at a quarter-mile wide and spinning out of control at 250 miles an hour, the Kentucky State Fairgrounds and Expo Center were the first hit. From there it traveled I-65 toward Audubon Park. En route to Poplar Level Road, century-old trees of George Rogers Clark Park snapped in its path. Eastern Parkway, Bonnycastle neighborhood, Cherokee Triangle and Park, Grinstead Drive, Frankfort Avenue, Crescent Hill, Brownsboro Road, Rolling Fields, Indian Hills, Knollwood, Watterson Expressway, Lime Kiln. The twister finally began to sputter out as it reached the Oldham County Line.
For twenty never-ending minutes, the twister of 1974 wreaked havoc on Louisville. In total, two were killed, 207 injured, some 900 homes were destroyed. The damage from the storm was even more severe than the storied '37 flood. In Cherokee Park alone, an estimated 2,000 trees were destroyed. The Louisville Water Company suffered a 24-hour water shortage, as its Crescent Hill filtration and pumping station was without power due to the destroyed transformer.
In all, 20 tornadoes ravaged Kentucky on April 3, 1974. 71 died and 693 were injured. Southern Indiana saw just one but in the hour and 35 minutes it was on the ground, covering 120 miles, death and damage was severe: 14 deaths and 286 injuries.
The content from this post is derived from Tornado! a Courier-Journal and Louisville Times publication created to document and commemorate the fateful events of April 3, 1974. Proceeds from the publication aided storm relief and those in need. I am grateful to the journalists and photographers who worked on creating this important record—and to all the journalists who continue to document the difficult, as without them, these stories undoubtedly would fade. As executive editor for the project, Samuel W. Thomas wrote in the preface, "Producing a book born of disaster is not a pleasant undertaking. But there is a compelling reason to record for posterity the events and aftermath of April 3, 1974…The passage of time will dissipate the horror and anguish of those who bore the disaster or viewed its terrible wake. Memories will blur, even those etched so deeply by fear and bewilderment."
Where were you on April 3, 1974? Share your memories in the comments section.
Author's note: As a non-native Louisvillian (not to mention 12 years shy of being born when this storm hit) I have no memory of this disaster. In fact, my learning of this tornado happened just today as I frantically wracked my brain for a blog topic. I share this because as always, I want to plug our online catalog. By searching "April 3" both in our catalog and the newspaper archives of LFPL, I was greeted with a trove of information. So for all you out there who "don't know what they want to write about" I encourage you to search our (or any) catalog with today's date—you'll learn a lot.
Opening image: The home of Joseph R. Gathright, Jr., on Knollwood Road. Image c/o Tornado! April 3, 1974 published May 1974 by  Courier-Journal and Louisville Times. The Filson Historical Society Library Collection.