Look Beyond the Surface: Abstract Art at the Filson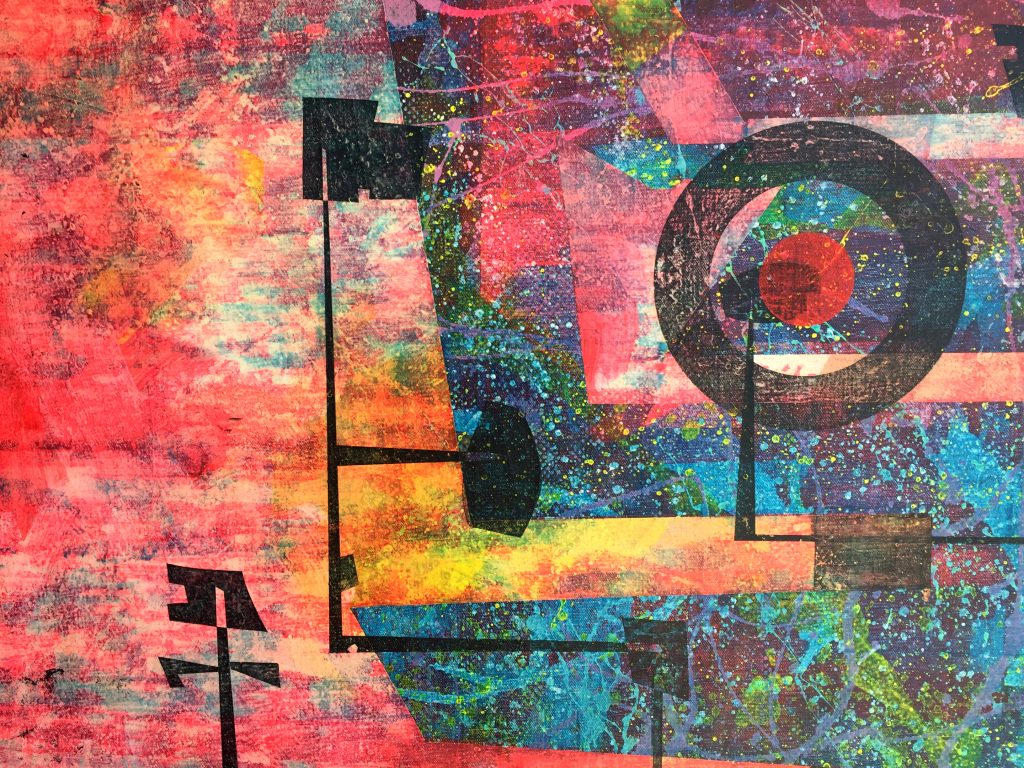 In 134 years of collecting, preserving, and telling the significant stories of Ohio Valley history and culture the Filson has never mounted an exhibit quite like Understanding the Indescribable: Paintings by G. Caliman Coxe, on view in the Bingham Gallery through December 15th. The show is not the first at the Filson to include art by an African American, nor is it the first to display 20th century art. It may be the first to display abstract art, and it is certainly the first to combine all three in an exhibit dedicated to the work of a single artist. And while the exhibit may seem to be a departure from the Filson's better-known areas of interest, such as 19th century documents and armaments, it reflects the diversity of our current collections and the future of our collections and exhibits.
As with our exhibits this year and next on World War I, we are showing off our significant and growing 20th century collections, ranging from personal papers documenting WWI and other conflicts, photograph and film collections of everyday life in the Ohio Valley, and museum collections ranging from musical instruments to our three G. Caliman Coxe canvasses.
Gloucester Caliman "G.C." Coxe (b. 1907, Carlisle, Penn., d. 1999, Louisville, Ky.) received his first instruction in art from his parents. His father, a Presbyterian minister, took the family from central Pennsylvania to North Carolina and Tennessee before settling in Louisville in 1924. Along with his siblings, G.C. Coxe was instructed in painting, music, and classical languages.
He attended then-segregated Central Colored High School, where the caption beneath a yearbook photo read: "Has artistic ability. Is very witty and good-natured. Will attain success in art and literature." He also attended the Bourgard College of Music and Art, established in 1927 to provide arts education to African Americans in the West End.
In 1955, at age forty-eight, Coxe became the first African American to graduate with a fine arts degree from the University of Louisville. For nearly fifty years thereafter, Coxe was a pillar of Louisville's African American arts scene. Supporting himself as a sign painter and as an illustrator at Fort Knox, he ceaselessly explored abstractions of color and form, and employed unusual methods and materials in his works.
Few opportunities were available for African Americans, let alone those creating abstract works, to exhibit in Louisville in the 1950s and 1960s. Coxe co-founded Gallery Enterprises and the Louisville Art Workshop, in order to provide studio and exhibit space – and mentorship – to generations of younger artists. His milieu included Sam Gilliam, Fred Bond, Bob Thompson, Kenneth Young, Robert Douglas, Ed Hamilton, William Duffy, and many more.
Finding only limited success outside the region, Coxe famously held occasional bonfires of his works to make room in his studio. This lack of broader recognition may have frustrated Coxe, but never diminished his abundant drive and creativity. Nearing the end of his life, he wrote:
"I have thought many times of quitting. [But] how can I, when at the finish of a piece there comes another image. I hope that with each finished piece, the viewer will look beyond the surface, the form and color and see and understand the indescribable – the other part of me – of all of us. God? Spirit?"
The Coxe paintings in the collection of the Filson were donated by Kay Oliver, widow of Bernie Dewitt Oliver. Bernie's first wife, Mary Oliver, acquired the pieces from Coxe when the two men worked together at Fort Knox. The Filson is grateful to Ed Hamilton, Dr. Robert and Laura Douglas, and Warren and Julie Payne of Payne Fine Art for lending their knowledge and the additional works that complete the exhibit and especially to Dr. Robert Douglas for sharing the following excerpt from his forthcoming biography of Coxe.
There are two upcoming events surrounding the exhibit, generously sponsored by Republic Bank. The first is a lecture on Coxe's career by Dr. Robert L. Douglas, emeritus professor of Pan-African Studies at the University of Louisville, taking place on November 6th. Then, on December 7th, a panel discussion of the African American arts scene in Louisville during the second half of the 20th century, with Dr. Douglas, Ed Hamilton, William Duffy, and Professor Ché Rhodes of the University of Louisville moderating.
Please join us for these events, or to view the exhibit, as we strive to share the diverse and colorful history of our region, from World War I soldiers to abstract artists, and beyond.