Jefferson County's Official Song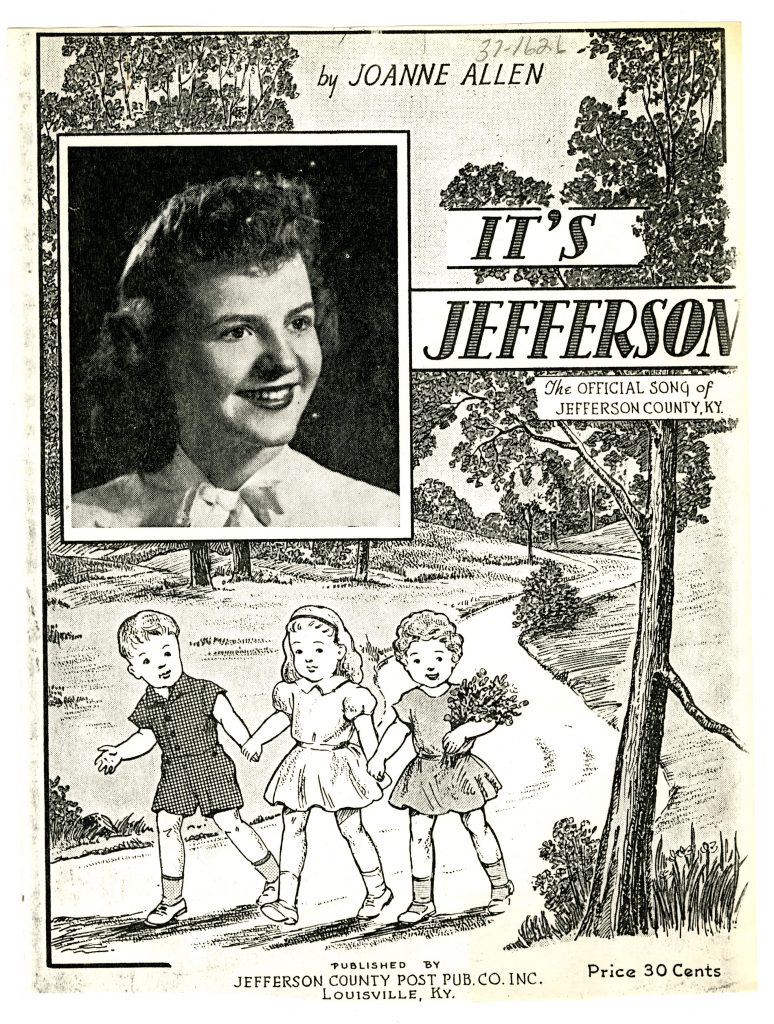 By Pauline Ottaviano.
Exploring the Filson's collection of sheet music and selecting pieces written by women composers led me to some interesting discoveries.  There were many songs about Kentucky in general, even one claiming to be the Commonwealth's official song, as it was published before My Old Kentucky Home was adopted.  The most unique, however, is a small, photocopied song I found in one of the last boxes of sheet music.
"It's Jefferson" is a song that was published in 1947 and claims to be "The Official Song of Jefferson County, K.Y."  It was composed by Joanne Allen, who at the time was only 15, a student at Okolona High School.  According to the Courier Journal, she won 100 dollars for her composition, and it was then published by the Jefferson County Post Publishing Company Inc. here in Louisville (Courier-Journal, Sunday, May 6, 1979 issue, pg 138).  Her lyrics (below) reflect great pride in the state and in the county, claiming it is "the perfect place to make a home".  The contest for the song was sponsored by Jefferson County Playground and Recreation Board.  It was performed by many school choirs in the county, at official events of all kinds.  After the immediate success of the song in the area, it quickly faded out of the vernacular for schools in the area, and it was forgotten by most until it was rediscovered in 1979.  As a music student living in Jefferson County, I was surprised I had never heard about this piece.  I believe this is something we should bring back to classrooms across the county, as a piece of history and as a source of pride for the area.
"It's Jefferson."
Words and Music by Joanne Allen.
In this old Blue-grass State is a county we call great
Its praises we sing in merry song
Tra la la!
It's Jefferson, the perfect place to make a home.
Jefferson, from where we'll never care to roam.
We love it, shout praises of it.
It's the best on land or sea or foam.
It's Jefferson, where laughing children run and play
Sing it out, the name grows sweeter day by day.
We live here, our love we give here;
To Jefferson, our home sweet home.
Pauline Ottaviano is a senior James Graham Brown Fellow at the University of Louisville, double majoring in Jazz Performance and Music Education. Her primary instrument is upright bass, but she is also a member of the Cardinal Marching Band as trombone/baritone section leader. A native of Manlius, NY, she has been interested in vintage sheet music since early high school, which is what inspired her to inquire about volunteering at The Filson as a part of her enrichment project through the Brown Foundation.