Holiday Cookies from Our Home(s) to Yours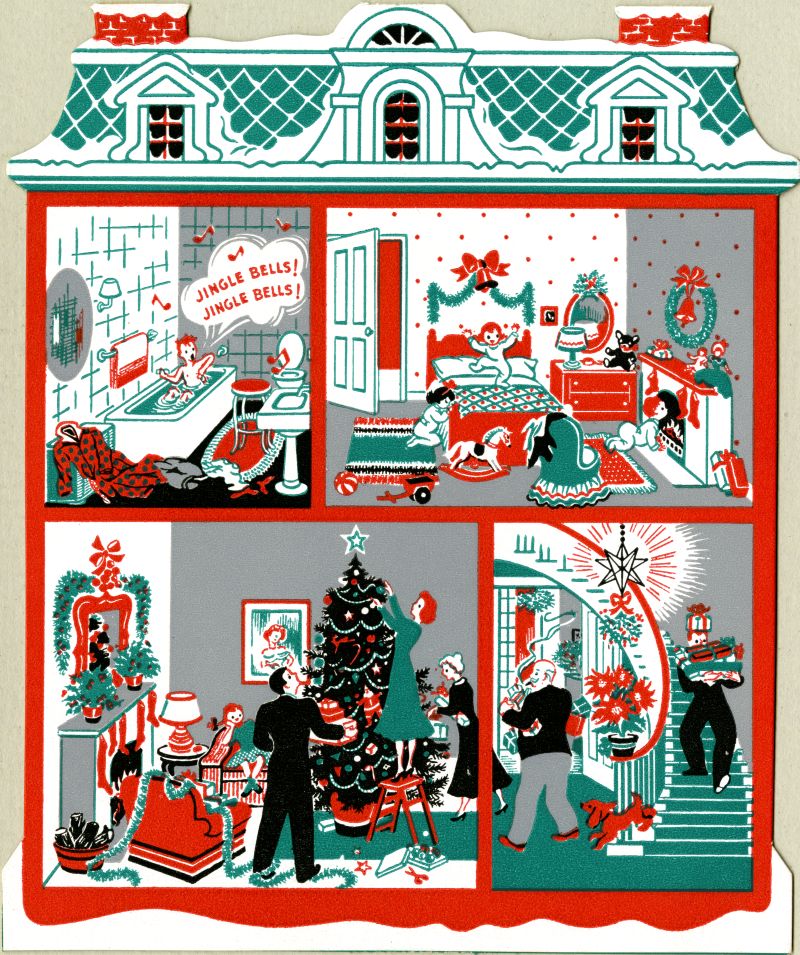 For the final "Recipes from the Archives" post of 2015, I've decided to mix things up a little bit. So while I will of course feature a recipe from The Filson's collections, I am also going to include a few personal favorites from various Filson staff.
To kick things off, I'll start with a Gingerbread recipe from the Corlis Respess Family Papers [Mss. A C799/174]. Like many older recipes, ingredient and cooking directions are scant--if not missing altogether (like this one). Here are a few tips: the "do" you see on the recipe stands for "ditto the above"; for flour measurement, I suggest beginning with 2 1/2 cups and continue adding until the consistency feels right and in lieu of baking instructions, I consulted Google and the general consensus is: heat oven to 350°F, grease and flour a 9-inch square pan and cook approx. 45 mins (bread is done when center-inserted toothpick comes out clean).
Now for staff recipes!
First is a recipe from Jamie Evans, Marketing and Public Relations Coordinator. Last week at The Filson's holiday party Jamie used this Sugar Cookie recipe to supply cookies for the festive and popular decorating station. These treats (also known as Martha Stewart's Essential Sugar Cookies) have been a staple in the Evans household since 2007 when Jamie first found the recipe in the now-defunct (much to Jamie's dismay) Blueprint magazine.
Jamie's Sugar Cookies
1 cup (2 sticks) unsalted butter, room temperature [I like to leave my butter out for at least two hours before trying to make these.]
1 cup granulated sugar
1/2 teaspoon salt
1 large egg
1 teaspoon pure vanilla extract [Do not buy imitation.]
3 cups all-purpose flour, spooned and leveled, plus more for rolling and cutting [I usually use about 2.5 cups of flour. I've found that 3 cups makes the dough really dry and powdery.]
In a large bowl, with an electric mixer, cream butter with sugar and salt until light and fluffy. Add egg and beat well to combine. Mix in vanilla. With mixer on low speed, add flour and mix just until incorporated (do not overmix). [When they say "do not overmix," the really mean it. If you overmix it, it turns into a powdery mess and you will hate life as you try to get the dough to stick together.]
Preheat oven to 350 degrees. Space cookies 2 inches apart on parchment-lined baking sheets. Bake until just barely golden around the edges, 7 to 12 minutes (depending on size of cookies). Cool completely on baking sheets. [I never space mine 2" apart or use parchment paper. I'm a busy lady and I don't have the time to do 70 billion batches of cookies on my two cookie sheets.]
Decorate, if desired. Let dry at least 2 hours. Store in an airtight container up to 1 week. [My favorite way to decorate sugar cookies is with buttercream icing and sprinkles! But if you are making these for a fundraiser or in large, decorated quantities, royal icing works better and transports a lot better. I made several dozen of these for the Until the Violence Stops bake sale in 2008 and used royal icing.]
Like to try your hand at something a little (or a lot...) more complex? Try these Ribbon Cookies, a long-time family tradition provided by Sarah Strapp Dennison, Membership Coordinator.  For the sake of space, I'm listing only the ingredients but you can see the full recipe by clicking on the photo to the right.
Ribbon Cookies
1 cup butter (2 sticks) softened
1 1/2 cup sugar
1 egg
1 teaspoon vanilla
2 1/2 cups flour
1/2 teaspoon salt
2 teaspoon baking powder
2 teaspoons poppy seeds
1 square bittersweet chocolate and 1/4 cup chopped pecans
1/4 cup chopped candied cherries OR 1 tablespoon orange rind & 1 teaspoon orange juice or liquor
The third recipes comes to us from the Buthod family kitchen. As it turns out our new President and CEO Craig Buthod is married to a culinary whiz. In fact, Tomese Buthod is a regular contributor to Louisville's Edible. While you're on their site, I highly recommend checking out her recipe for Mixed Cheese and Rosemary Crisps (right?!). In the meantime, her cookie recipe had me at hazelnut.
Chocolate Hazelnut with Oatmeal Cookies
1 3/4 cups all-purpose flour
1 teaspoon kosher salt
1/2 teaspoon ground cinnamon
1/4 teaspoon baking soda
1 cup vegetable shortening
1 cup granulated sugar
3/4 cup packed dark brown sugar
2 large eggs
One 13-ounce jar Nutella
2 cups rolled oats
Hazelnuts for garnish, optional
Preheat the oven to 375° and line 2 large baking sheets with parchment paper. In a medium bowl, whisk the flour with the salt, cinnamon and baking soda. In a stand mixer fitted with the paddle, beat the shortening with both sugars at medium speed until light and fluffy, about 2 minutes. Beat in the eggs 1 at a time, scraping down the side of the bowl. Add the Nutella and beat until smooth. Reduce the speed to low and beat in the dry ingredients until just incorporated, then beat in the oats.
Scoop 1-tablespoon mounds of dough 2 inches apart on the prepared baking sheets.  Press a hazelnut into the center if desired.  Bake for 8 to 10 minutes, until the edges are lightly browned and the cookies are just set; shift the pans from front to back and top to bottom halfway through baking. Immediately transfer the cookies from the pan to racks to cool. Repeat with the remaining dough.
Make Ahead - The cookies can be stored in an airtight container for up to 5 days.
Next is Heather Potter, Associate Curator and her Butterscotch Squares. The recipe came to Heather by way of her Grandmother Sarah "Sally" Day's good family friend The Briggs. Try it out for yourself!
Butterscotch Squares 
2/3 cup flour
1/4 tsp. salt
1 tsp. baking powder
1/4 cup butter
1 cup brown sugar
1 egg
1 teaspoon vanilla
1/2 cup chopped nuts
Spread in pan. Bake at 325° for 30 minutes.
Finally, I close with not a recipe per se but a podcast on the topic of holiday baking. The "Feast Yr Ears" podcast is run by Associate Curator Aaron Rosenblum's brother, Harry. This episode features Aaron and Harry's Aunt Barb, as she discusses their Jewish family's long-standing tradition of baking thousands (literally) of Christmas cookies. Fun fact: Aaron wrote/performed the theme music for the show and drew its logo.
I hope you've enjoyed reading this year's "Recipes from the Archives" as much as I've enjoyed researching the recipes and writing about them. In fact, I think I'll keep the recipes coming in 2016! Why mess with a good thing?
So readers, I'm signing off. Tomorrow I head north for the holidays where I am certain to spend a day (or two) making some of my own family's Christmas cookies! 'til 2016!
Cheers to a healthy and happy year ahead!
[opening image: Greeting card, Carrie Douglas Dudley Ewen]