Holiday Cheer from The Filson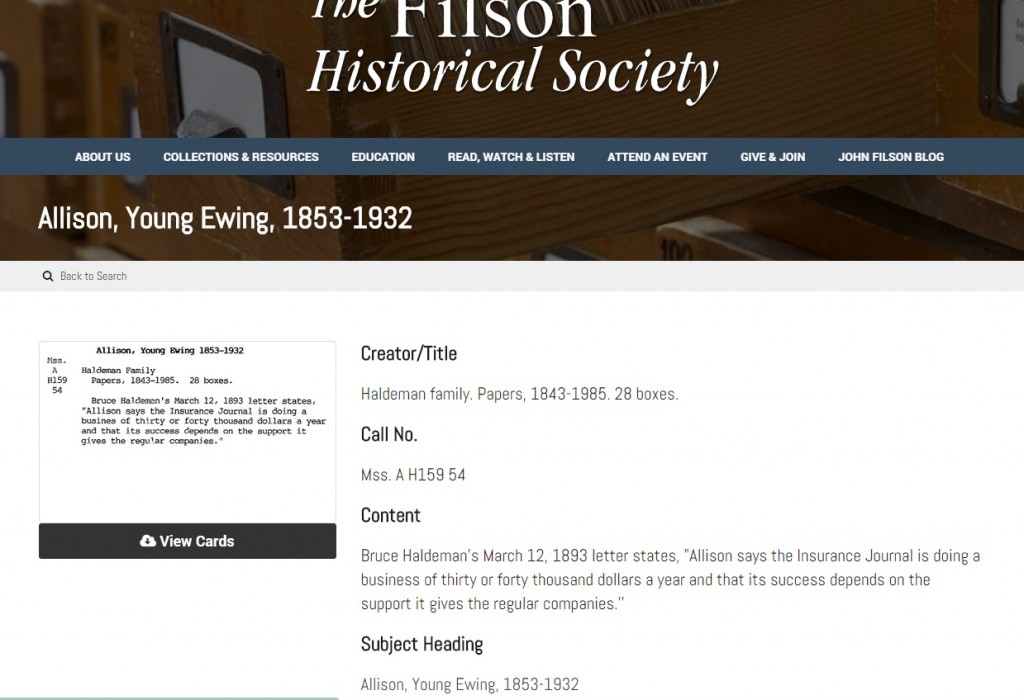 Just like that jolly old elf with a sack of presents on his back, this holiday season The Filson is also delivering a few "gifts" to researchers and history enthusiasts.  Two projects in development over the past year are in their initial launch stages on our website. The Manuscript Virtual Card Catalog will make descriptions of The Filson's vast manuscript collection available online through both our website and via browser searches (please click HERE to link to the Manuscript Virtual Card Catalog). A virtual card catalog for the Bullitt Family Papers – Oxmoor Collection served as the pilot project for this ambitious undertaking (please click HERE to link to the Bullitt Virtual Card Catalog). It went online this summer, allowing researchers to view both the card text and image of the card via key word searches. Hundreds of subject and personal name headings, along with information on what about them can be found in the collection, can now be viewed remotely. The much larger manuscript card catalog was next. Some 70,000 cards were scanned and prepared for online listing. As quality assurance is completed, they are being posted.  Recently cataloged collections (with no actual printed cards) are also being added to this database. New cards will be released throughout 2015, making more and more historical information available at researchers' fingertips.  Please see the images below for screen shots of the search results and a sample entry; click here to view the entry live.
A second project is making more of The Filson's image collection available online. To accomplish this we're using the Past Perfect Online software. Again, as quality assurance is completed, images from The Filson's photograph, print, and museum collections will be going online. The first release is scheduled for January 2015, with periodic additions. A complement to this database is the "Galleries" feature on our website. Each individual gallery is devoted to a single subject or person. Be it "The Great 1937 Flood," "Steamboats on the Ohio River," or other topic, visitors can view selected captioned images related to that single subject. More galleries will be developed and released in 2015, making hundreds of images on a variety of topics available to both the interested browser and the serious researcher.
So Happy Holidays and best research wishes for the New Year to all Filson members, researchers, and others who might find these presents interesting and useful. We'll be checking our list for both the historically naughty and nice for posting to the VCC, Past Perfect Online, and the Galleries!