Planned Giving at The Filson
The Filson Historical Society is a privately funded organization.  We have preserved and shared our local, regional, and national history for over 134 years in a large part due to the help of generation after generation passing on their legacy. A planned gift is an ideal way to support the Filson and establish your own Filson legacy. Planned gifts can take many forms, some complex, but the Filson encourages three simple types:
Bequests Under Wills. Donors can provide for a bequest to the Filson under their will.
Gifts From Retirement Plans. Donors can name the Filson a beneficiary of a retirement plan, such as an IRA or 401(k).
Gifts of Life Insurance Policy proceeds. Donors can make the Filson a full or partial beneficiary under an existing or new life insurance policy.
This is an exciting and opportune time to make a planned gift to the Filson. Our transformative Campus Expansion Project dramatically increased our capacity to educate the public about their past. An understanding of history is the key to a successful future for our communities. A planned gift will help safeguard that future and ensure that the Filson continues to successfully perform our unique mission for generations.
The Thruston Legacy Circle
The Thruston Legacy Circle is an honorary society established in 2015 to celebrate and honor our supporters who have included the Filson in their estate plans. Thruston Legacy Circle members follow in the footsteps of the Circle's namesake, Rogers Clark Ballard Thruston, president of the Filson from 1923 until his death in 1946. Mr. Thruston led the organization through a pivotal period following the death of its founder, Col. Reuben T. Durrett, guiding its transition from a private history club to a public, nationally respected, educational institution. He was truly the "savior" of the Filson. His most enduring legacy was his planned gift to the Filson, a $125,000 bequest under his will which safeguarded the Filson's future.
The Filson recognizes Circle members in our print and online media, including in our quarterly magazine, The Filson, and honors them at an annual appreciation event for Circle members.
Bill and Lindy Street - Founding Thruston Legacy Circle Members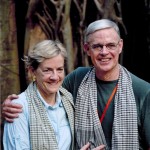 "A wonderful treasure – tucked away in Old Louisville – The Filson Historical Society is the collector of Ohio River Valley historical papers and items that capture the significance of and add perspective to the rich history of this part of our great country. Lindy and I have made The Filson a part of our planned giving in order to provide continued financial assistance toward this wonderful resource."
~ Bill Street, Filson Board of Directors
Robert E. Kulp - Founding Thruston Legacy Circle Member
"I am very pleased to be able to make a planned gift and become a member of The Filson's Thruston Legacy Circle. Although I am technically from "away", to use a New England term, my marriage into a Kentucky family with history here going back several generations and experiencing their long term enthusiasm for the Society in preserving regional history strongly influenced my decision to continue this support in the form of a planned gift."
~ Bob Kulp, Filson Board of Directors
If you have made a planned gift to the Filson, or want more information about doing so, please call the Development Office at 502-634-7108 or send an email to Brenna Cundiff, Manager of Development and Membership, at brenna@filsonhistorical.org. We would love to welcome you to the Circle.
Thruston Legacy Circle Members
Allan S. Atherton
Emily Durrett and Leonard Gross
George R. Bailey and Porter Watkins
Dr. and Mrs. Harold W. Blevins
Collen Dale Bratcher (1932-2015)
Michael N. Harreld
Robert Kulp
Dr. and Mrs. Alton E. Neurath
Mike and Mary Dale Reynolds
Mary S. Sachs
Bill and Lindy Street
Clay and Jo Stuckey
Carl M. Thomas
Orme Wilson
Stephen R. Zollner