Fried Chicken, Progressive Women, and the Suffrage Movement in Kentucky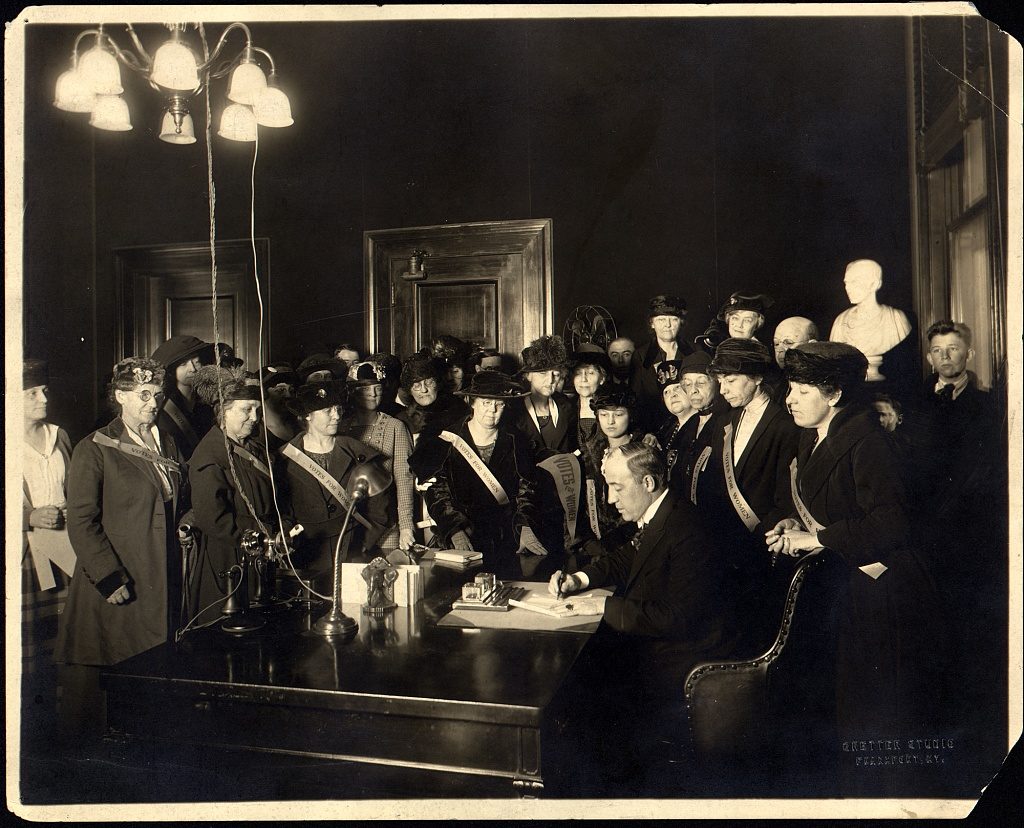 I always knew Glendale, Kentucky for its home-cooking.  The town's Whistle Stop restaurant, just off I-65, was the place we always stopped for dinner before driving on to Dale Hollow Lake for the weekend.
My friend liked to order the fried chicken – a dish so enormous that it seemed like one order should feed several people (although my friend usually managed to consume all of it in one go).  We always ordered an appetizer – fried green tomatoes! – and several slices of pie for dessert too.  The late-night drive from Glendale to the lake was often a challenging undertaking on such a full stomach.
I've been doing some reading recently on the Women's Suffrage Movement. Yesterday as I browsed the website for the Kentucky Woman Suffrage Project, I was surprised to discover that Glendale was also notable as a hotbed for women's rights activism.  The tiny town – not the cities of Louisville or Lexington – was the location of the state's first women's suffrage organization, founded in 1867.  Although the Glendale group was short-lived, women's suffrage soon became a political movement in Kentucky, a state suffragists considered a crucial gateway to the South.
The centennial of the ratification of the 19th Amendment, granting women the right to vote, is fast approaching.  The Filson will commemorate the suffrage movement with an exhibit "Progressive Women", and an academic conference in 2019.  In preparation for the upcoming exhibit, I began to explore how the suffrage movement is documented in the Filson's collection.  I discovered that a coworker had already written an excellent blog post about some of our suffrage holdings, including activist Mary Barr Clay's letters and minutes of the Louisville Equal Rights Association: https://filsonhistorical.org/herstory_womens-rights/.
I also came across a pamphlet published by the Kentucky Equal Rights Association (KERA) in 1890, three decades before the ratification of the 19th Amendment. The pamphlet "Kentucky Women and the Constitution" was written by Josephine Henry (1846-1948), a dynamic speaker and writer from Versailles, Kentucky.  Henry was a suffragist who advocated on behalf of women in the political arena.  She also supported property rights for women, desiring that women no longer be "treated as outlaws and all their property confiscated at marriage."  She was instrumental in the passage of the Married Woman's Property Act in 1894, which granted women greater economic independence and security.
The opening lines of this pamphlet are my favorite:
The day has arrived when Custom is being constantly arraigned before the bar of Justice and Common Sense. Custom no longer awes the multitude. All nations, ranks and classes in turn are questioning and repudiating his authority. Custom has always been a tyrant . . . woman, on whom he has riveted heavy shackles, comes to look him in the face.
Looking back over 100 years ago reminds me of how much greater freedom and equality women enjoy today.  I admire women like Josephine Henry who challenged the status quo.  I respect the multiple generations of American women who advocated for suffrage for 72 long years.
I'm also reminded that gender inequalities remain.  A gender pay gap persists.  As we've heard from #MeToo, women are frequently victims of sexual harassment in the workplace.  Domestic violence predominately affects women and children.  Racism often adds to this burden; by many measures, women of color in America fare worse than their white peers.  I agree with Josephine Henry: if this is customary, it is also intolerable.  There is still much progress to be made.