For Veterans Day, Candid Views of World War I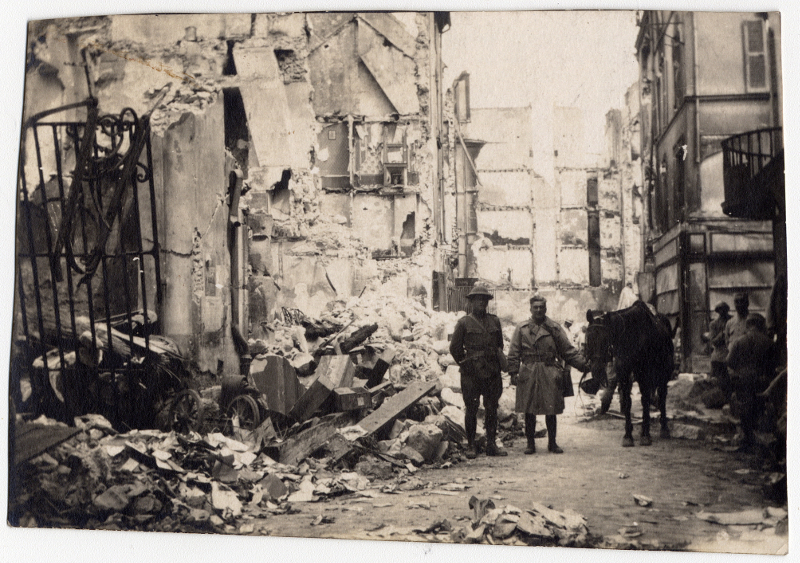 In honor of Veterans Day, we would like to offer a glimpse of one of The Filson's many collections that feature documentation of service by Ohio Valley men and women of all walks of life in conflicts stretching from the founding of our nation into the 20th century.
As we are approaching the centennial of American military participation in World War I, we have chosen the personal photographs taken by John Speed (1893-1968) during his training and deployment with a field artillery company. Click here or on the image at the bottom of this page to see the full gallery.
Speed's photos contrast pastoral scenes in Indiana and rural France with scenes of utter destruction in French towns, in which fellow soldiers sometimes appear and give a sense of scale. Also shown are allied soldiers of other nations, and views of the trenches and tent encampments that served as homes for Speed's artillery company during their campaign.
The images in the gallery are not graphic, and indeed rarely feature human subjects other than healthy, if tired looking, allied soldiers. But the absence of life only increases the sense of alienation that has been captured so well in the literature of the war.
Be on the lookout for more World War I programming at The Filson as we celebrate the sad conflict's centennial in the coming years. For more information on John Speed's service, see the description found at the top of the gallery page. If you are interested in materials at The Filson relating to those who have served, please feel free to contact us with your query.
Click on the image below to see the full gallery.