The Kentucky Online Arts Resource (KOAR)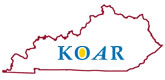 The Kentucky Online Arts Resource (or KOAR), an ongoing project of The Speed Art Museum and its partners, is a free image database devoted to documenting the state's decorative arts, fine arts, folk arts, and design. One can search for images of furniture, silver, ceramics, glass, textiles, paintings, sculpture, and other types of objects made or used by Kentuckians. The database also contains artists' depictions of the state's cities, towns, landscapes, and citizens. At present, KOAR focuses on Kentucky's pre-1950 artistic heritage. In March 2007, KOAR was awarded a Certificate of Commendation by The Historical Confederation of Kentucky and the Kentucky Historical Society.
The Filson Historical Society joined the KOAR project in April 2006. Our goal in partnering with KOAR is to make our vast number of valuable resources easier to research and more readily available to the public. We also value the chance to better preserve our own collections in digital format for future generations and endeavors.