The Filson Celebrates Riverboats and the Belle's 100th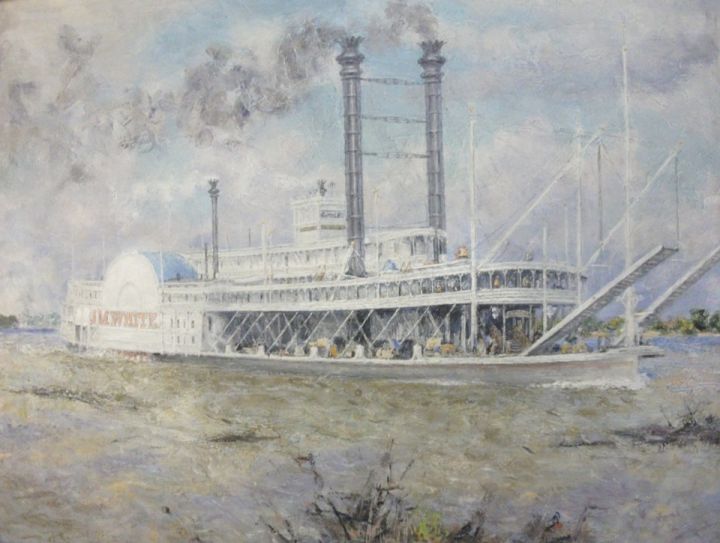 Just in time for the Centennial Festival of Riverboats, which will feature 6 riverboats on Louisville's waterfront and events around town next week, all in honor of the 100th anniversary of the launching of the Belle of Louisville, the Filson is proud to present a week of events and an exhibit of steamboats, riverboats, and Ohio River-related materials from our collections.
The exhibit, Steamboating on the Western Waters will open on October 14th at 12:00 p.m. with comments by co-curator and Filson Director Mark Wetherington, and run through December.
On October 15th at 3:00pm in the Daisy Room at the Galt House Hotel in downtown Louisville, Dr. Wetherington, will be giving a talk on the 1868 crash of the steamboats United States and America.
On Friday, October 17th at 3:00pm, the Filson's Mike Veach will give a talk on the role of the Ohio River in the bourbon whiskey trade during the steamboat era.
The seeds of the Steamboating the Western Waters exhibit, taking place in our second floor program room, were sown in an exhibit of the same name held at the Filson in 2011. The current exhibit showcases some favorite pieces from the 2011 exhibit, as well as new acquisitions made in the ensuing years. Included among the new acquisitions are some of the earliest Louisville and Ohio River views in oil and watercolor held by the Filson. Also included are documents, photographs, portraits, and ephemera illustrating the deep connections between Louisville, the surrounding areas, and the steamboat trade that dominated the Ohio River in the 19th century. The exhibit wouldn't be complete without the Belle of Louisville, shown in its previous forms as the Idlewild and Avalon as well as in its current guise.