"Lincoln's Kentucky" was developed by The Filson as part of its Abraham Lincoln Bicentennial plan. Supported in part by a grant from the Kentucky Abraham Lincoln Bicentennial Commission, the site presents information and images relating to Kentucky during Lincoln's life, Lincoln's Kentucky connections, his legacy in the state of his birth, and Lincoln material at The Filson.
Abraham Lincoln's life and legacy have captivated Kentuckians, Americans, and people around the world since he rose to national prominence in the 1860 presidential election. He is one of the most studied and written about people in history. The official national celebration marking the bicentennial of his birth kicked off on February 12, 2008. The two-year commemoration actually brackets the bicentennial of his February 12, 1809 birth.
Lincoln was a native Kentuckian. Born on a farm near Hodgenville, little in his early life indicated future greatness. The family moved to nearby Knob Creek, then to Indiana near present Dale and finally to Illinois. It was in Illinois that Lincoln began his career in law and politics. Although the future president no longer lived in Kentucky, he maintained his ties to his native state through his friendships and marriage. He considered himself a Kentuckian to his dying day.
The life and legacy of this great American are intertwined with that of his native state. The two cannot be separated. Kentucky and Kentuckians were influential in shaping Lincoln the man, Lincoln the politician, and Lincoln the president. In turn, Lincoln's actions as president impacted Kentucky and Kentuckians. It is a shared experience and legacy.
"Lincoln's Kentucky" is a website based resource exploring that shared connection between the Bluegrass State and Abraham Lincoln. It covers the periods of Lincoln's life – early years, antebellum years, and Civil War years – and how they connect to Kentucky's history. Influential people in his life, his legacy, a gallery of Lincoln material in The Filson's collection, bicentennial events, and a selected Lincoln bibliography are also included.
Organizations and institutions across Kentucky, the region, and nationally are actively marking the bicentennial of Lincoln's birth. Given The Filson's rich historical collection and its mission to tell the significant stories relating to Kentucky's and the region's history a web based Lincoln resource is most appropriate.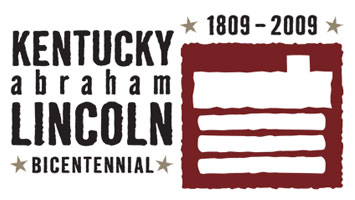 The project has been funded in part by a grant from the Kentucky Abraham Lincoln Bicentennial Commission. The site is under construction and continues to grow, so visit again to see additions.