Duck…Duck…SOUP!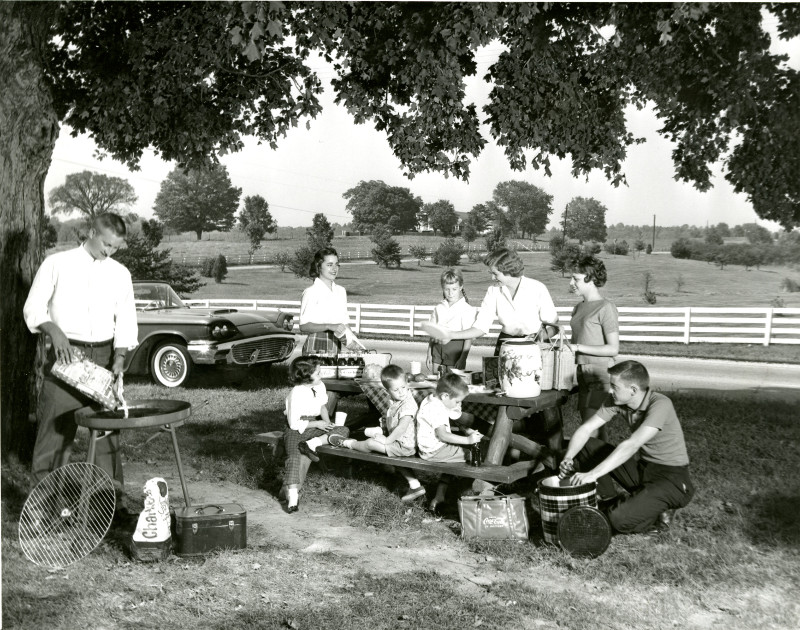 By the time this post hits the blog, I'll be lounging and reading on the beaches of South Carolina (thanks, automation!) but in the meantime, I figured I best get to crankin' out my June "recipe" column. So while I countdown the days until the commencement of my summer vacation (two), I thought What could be a better or more suited to the idea of summer than a post about picnics?
I don't know about you, but when I think "picnic" the first thing that comes to mind isn't soup. And it certainly isn't soup made of "squirrels, duck, chicken and a pig." Yet that was the main course for Susanna "Susa" Thornton Green [Mss. A G798b] and her family at their May 25, 1862 picnic near New Liberty, Kentucky at Eagle Creek. Here she describes the preparation of the duck:
Mean time "the work went briskly on" and soup began to bubble in creamy waves. The ducks had been picked and washed in the creek which was not precisely chrystal [sic], but earthen yellow with mud and the late rains. But to hungry people what was a little mud! 
Hungry, indeed! Yet as Susa goes on to explain, a storm rolled in, forcing she and her party to depart earlier than planned.
I was not pleased with the idea [of leaving early], but I came back directly and went to see her about it. Johnny was a little frightened too and both were tired and anxious to go home. But there was the good soup not done and I wanted to stay.
Once she and her family finally arrived home, Susa had a serious case of hanger (hunger + anger) going on--and I can't say I blame them girl! I can relate, just ask my co-workers…
I was so hungry and tired, for I had only eaten a bite at the picnic, that I could not enjoy my visit until after supper when I drank some good coffee and began to be contented about losing the good clean soup.
Be it duck or deli sandwiches, you can help out The Filson when you shop at Kroger for all your picnicking and cook-out needs because The Filson is now taking part in Kroger's Community Rewards Program. Your enrollment contributes ~2-5% of your purchase to FHS.
Simply REGISTER, search "Filson" and enroll--it's that simple!
Top Image: Where is the squirrels-duck-chicken-and-a-pig-soup? It's not a picnic--or a party--without the four-animal soup! "Picnicking At A Road Side Park in Kentucky" 1968, [Subject Photo Collection, PKY 97], Special Collections Department.