Culinary Adventures in The Filson's Collections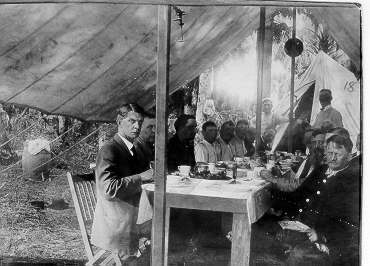 The holidays are a time to gather with family and friends. This Thanksgiving, my family congregated in the kitchen and prepared a special meal together: turkey, stuffing, a plethora of sides, and--my favorite--three flavors of homemade pie. Many families have holiday traditions surrounding the food that is prepared and shared. Recipes that we learned from our parents and grandparents have a special meaning and bring back memories.
Images and documents in the Filson's collections reveal the cooking traditions of the past--not just during the holiday season, but throughout the year. As you plan and prepare your own holiday dishes, I hope you enjoy a few of these images and recipes from the Filson's collections.
Susa Thornton Green, a young woman from New Liberty, Kentucky, gives a vivid description of a special soup prepared at a community picnic.
"We determined to go to a picnic that was to be on Eagle creek not far from Liberty. We fixed up a hasty dinner and went down. All the young people about N. L. had gone to it and it was very agreeable. The young men had to make the soup out of squirrels, duck, chicken and a pig. They were very late getting it on ... "The work went briskly on" and soup began to bubble in creamy waves. The ducks had been picked and washed in the creek which was not precisely chrystal [sic], but earthen yellow with mud and the late rains. But to hungry people what was a little mud! We laughed as we saw the ducks flapped up and down in the water and when one old bachelor, washing gizzards, came very near falling in the creek when the canoe rocked, our mirth knew no bounds."