Cucumbers & Cream Cheese, oh my!
Spring has sprung! Not only are the flowers in full bloom and the weather is warm, but it is Derby week here in Louisville. Those who work with me know that while I am not a native Kentuckian I have fallen in love with this wonderful Kentucky tradition. The fanciful hats; the glorious golden elixir, Bourbon, mixed with a sprig of mint; watching the most riveting two minutes in sports, and Southern Cuisine including the famous Kentucky Hot Brown, Beer Cheese, and Benedictine Sandwiches.
Over the last few years I have learned a lot about Kentucky's history and traditions. I am familiar with the origination story of the Kentucky Hot Brown—credited to the Brown Hotel and possibly invented to help curb off a hangover. One of my favs, Beer Cheese, which was an amazing find when I first moved to Frankfort (shout out to Colonel Coleman's) and the annual Beer Cheese Festival in Winchester, KY where one can explore the many varieties all claiming to be the best. However, I knew little about Benedictine until a recent reference query introduced me to Miss. Jennie Carter Benedict. Hint, she is most notably known as the creator of "Benedictine," a spread made of cucumbers and cream cheese and will be found on Derby menus around the city this weekend.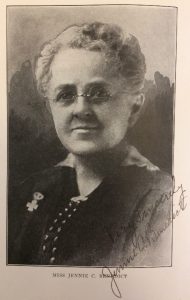 Born to John C. and Mary C. (Richards) Benedict in Louisville on March 25, 1860, Jennie was educated in Louisville Public Schools and the Boston School of cooking under Fannie Farmer. Her cooking career began in a small house she built in her parent's backyard near Harrods Creek, the kitchen built on credit and the equipment given to her by generous friends and supporters of her venture. After advice from a  friend Jennie sent out circulars stating she would "take orders, from a cup of hot chocolate to a large reception; sandwiches on short order; cakes, large and small; trays and dainty dishes…"[1] all being offered from her starter kitchen. By Thanksgiving of 1893 orders were flooding her doors. By spring of 1900 Miss Jennie opened a restaurant and tea room called Benedict's along with partners Miss Salome E. Kerr and Charles Scribner on South Fourth Street. It was during her catering period when she invented and originally served Benedictine.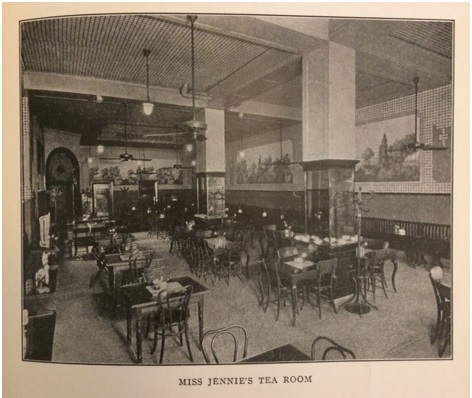 Jennie even published two cookbooks, A Choice Collection of Tested Recipes: with a Chapter on Preparation of Food for Sick (1897) and her better known The Blue Ribbon Cook Book (1904) both housed in the Filson's Rare Book Collection.
A Choice Collection of Tested Recipes: with a Chapter on Preparation of Food for Sick [RB641.5 B463c 1897]
While today we remember Jennie for her Benedictine spread, she credits her success to her Fruit Cake and Old English Plum Pudding she made when she first started her business.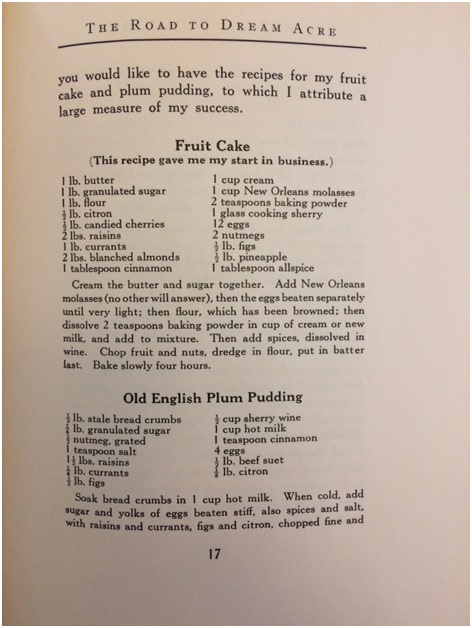 And of course, what you have all been waiting for Jennie Benedict's Benedictine recipe:
8 ounces cream cheese, softened
3 tablespoons cucumber juice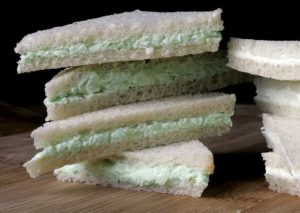 1 tablespoon onion juice
1 teaspoon salt
A few grains of cayenne pepper
2 drops green food coloring
To get the cucumber juice, peel and grate a cucumber, then wrap in a clean dish towel and squeeze juice into a dish. Discard pulp.
Do the same for the onion.
Mix all ingredients with a fork until well-blended (using a blender will make the spread too runny). Serve as a dip or as a sandwich filling.
While contemporary chefs of Louisville may nix the food coloring, they can all agree that this is a true Kentucky tradition that should be served at your Kentucky Derby party.
Happy Derby y'all!
[1] Benedict, Jennie C.  Road to Dream Acre. Louisville, KY: The Standard Printing Company, 1928, 15.