Cracksmen, Counterfeiters, and Fancy Women: A Glimpse of the Late Victorian Underworld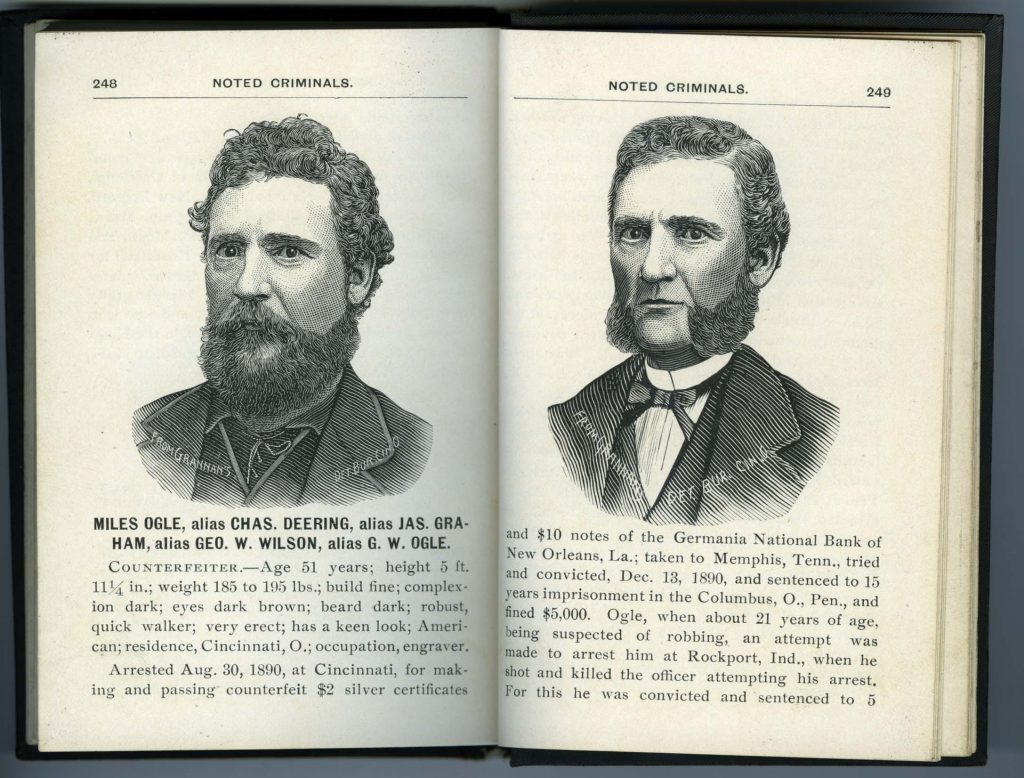 By James Prichard
The criminal underworld of late Victorian Louisville was populated by a colorful mixture of safe crackers, house breakers, counterfeiters, and ruthless killers. The old "Red Light District" centered on Lafayette Street, which disappeared during the construction of Interstate 65. Known locally as "The Chute," the area featured the establishments of notorious madams, including one with the alluring name of "Cut-throat Alice."
The annual reports for the city Police Departments contain the number of arrests and convictions made during a given year that serves as a virtual catalog of crime. Delos T. Bligh (1823-1890), Louisville's chief detective, was as famous in his day as Allan Pinkerton. He was regarded by criminals as one of the "toughest fly cops" in the nation and the bete noire of the James-Younger gang of outlaws when they operated in Kentucky. Known as "Yankee Bligh," the native New Yorker was instrumental in helping Scotland Yard apprehend four American con-artists who defrauded the Bank of England of a half million dollars in 1873.
Lesser known but equally colorful was Michael G. Bauer (1842-1919), a U.S. Secret Service detective based in Louisville. A native of Germany, Bauer gained considerable notoriety in hunting down counterfeiters in the late 19th century. The Louisville Courier-Journal is filled with accounts of Bauer's exploits that culminated in the arrest and conviction of dozens of criminals for, in the parlance of the time, "shoving the queer," i.e. passing counterfeit money.
His most notable arrest was that of Miles Ogle in 1890. Bauer shadowed the "King of Counterfeiters" through several states before arresting him in Cincinnati. Another important arrest was that of James Fox of Louisville who was described as a "counterfeiter, safe blower (i.e. cracksman) and general thief." In a pursuit that took over three years, Bauer arrested Fox in Indianapolis in 1887.
Bauer eventually left the Secret Service and opened his own detective agency in Louisville. In his final years he worked as a night watchman for local businesses. He died in 1919, a forgotten man, and is buried in Cave Hill Cemetery. Available for research at the Filson's Special Collections Department, Bauer's papers, as well as photographs of the criminals he pursued, shed light on Louisville's 19th century underworld of crime.
Want more stories of crime and punishment? Join us on Thursday, February 8, 2018 from 12:00 PM - 1:00 PM as Law professor and authentic storyteller Richard H. Underwood recreates in engaging and folksy prose the true facts behind 24 Southern murder ballads, selected from his recent book CrimeSong: True Crime Stories From Southern Murder Ballads. For more information visit our events page.
Opening Image: 
King of the Counterfeiters [Mss. A B344/7]