Chihuahuas, Corlis [Respess], and Crullers: A Blog (sort of) about Doughnuts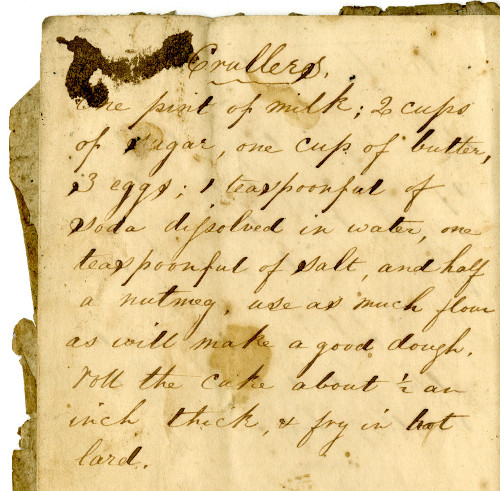 It's Friday, which means a few things here at The Filson--at least for me.
First, it means "Chihuahua Shirt Friday". If you've read my bio (see below) you'll know that I am quite fond of my black, apple-headed Chihuahua, Cricket. So it only seems natural that when I see a t-shirt featuring Cricket look-a-likes, I buy two.
Friday also means it's time for another "Recipe from the Archives" post.
This month we're featuring a recipe from the Corlis-Respess Family Papers, 1698-1984 (bulk: 1787-1840) [Mss A C799].
Crullers (see main image for recipe) aren't the only recipe found within the family's collection.
Written in a small (~4"x6"), bound recipe book with a cover that features a wonderful floral design, readers will also see recipes for "good cheese", mincemeat, and gingerbread.
Finally, I couldn't hardly post a recipe about doughnuts and not bring in a dozen to share with my co-workers and a lucky researcher or two (don't worry, no doughnuts were consumed in the reading room!)
I was tempted to try my hand at making the crullers listed above but when laziness set in and I heard there was a new doughnut shop in my neighborhood. Well, you see how things turned out...
Stay tuned: Next month, in preparation for the 141st Kentucky Derby, I'll be posting a classic Mint Julep recipe.