An Aging Gallant: General Buckner's Final Surrender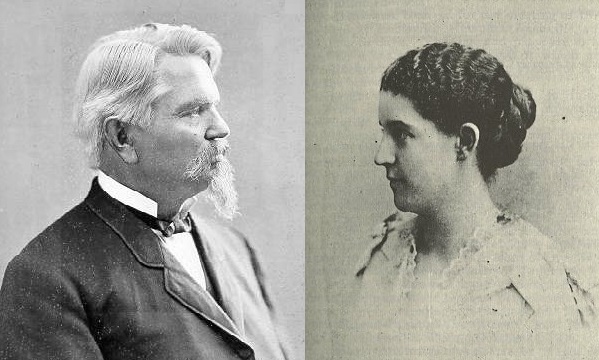 Simon Bolivar Buckner (1823-1914) and Delia H. Claiborne (1857-1932). The Buckner Family Collection and The Confederate Veteran Magazine, 1896 (The National Historical Society, 1896)
He rose to the highest ranks of the Confederate Army, but at war's end Simon B. Buckner found himself a penniless exile from his native Kentucky. Ironically his final role in the Civil War was facilitating the surrender of Confederate forces in the Trans-Mississippi region. Glory in battle had eluded him and in the annals of the conflict he would largely be remembered as the Confederate commander who surrendered Fort Donelson to his old friend and West Point classmate, Ulysses S. Grant, in 1862.
From exile in New Orleans, Buckner eventually returned to Kentucky in 1868. Following the death of his first wife in 1874, Gen. Buckner began to restore the old family estate of Glen Lily near Munfordville in Hart County. But his family circle continued to grow smaller. In the summer of 1883 his only child, Lilly, married and moved with her new husband to Louisville. That fall his sister, Mary Buckner Tooke, who became the mistress of the household after his wife's death, was laid to rest.
At the age of 60 the old soldier seemed fated to spend his last years at Glen Lily alone. However in the fall of 1882 he had begun corresponding with a young Virginia beauty who had requested his photo. Twenty-six year old Delia H. Claiborne of Richmond had met the General and his daughter Lilly during one of their frequent sojourns to White Sulphur Springs. Located at Greenbrier, West Virginia, the Springs was a major gathering spot for the Southern elite in the post war years.
Buckner politely sent the young belle a likeness of himself taken in Confederate uniform and shared with her his lifelong passion for literature. Their subsequent correspondence reveals that the aging gallant was soon quite smitten. During the fall of 1883 he apologized for his "indiscreet vow" while visiting her in Richmond and lamented his "expulsion from Paradise." By the summer of 1884 he openly declared war on her "purpose of being an old maid" and playfully hinted that she may soon become "a young and attractive widow."
Miss Claiborne laced her letters with subtle hints about her feelings, mentioning at one point that she had "outgrown" a certain young suitor and frequently lamented the fact that she was fated to be an "old maid." By late 1884 she declared to her "Dear General" that he was the "most skillful and consummate flatterer" she had ever known. Buckner, who showered her with flowers and gifts, fortified his letters with frequent quotes from Lord Byron and Shakespeare. In time he began to make improvements to Glen Lily with Delia in mind including a romantic, picturesque riding trail he christened the "Delian Way."
Given the rural location and rustic design of Glen Lily, Buckner playfully referred to himself as the "gray haired barbarian of the Green River knobs" who was determined to carry Delia away from Richmond society. In one of his almost daily letters, the General boasted that he would "brave fire and water" to win her hand.
By the spring of 1885 the couple was engaged and Buckner's picture held a place of honor in Delia's boudoir. Their path to marriage was not without obstacles however.  While Buckner gained the approval of Delia's parents, he faced strong opposition from his daughter. Lilly bluntly accused the Virginia belle of being a fortune hunter and offered her an unspecified sum of money to break off the engagement. In reality the Virginia belle was apparently awed by Buckner's martial fame and confessed in one of her letters, "I adore the heroic in person, in action & in song."
Undaunted the "May-December" couple continued their plans. At one point Delia confessed to her aging gallant that "your high qualities of mind, character & heart have won me, together with your crowning virtue of gentleness." When Buckner regretted their age difference she scolded, "Don't ever say anything again about an 'aged heart', it is the feeling of our hearts that make us young."
Buckner, in turn, declared that his "captive heart" yearned for their "blessed union." The couple was married in Richmond on June 10, 1885. Delia, who afterwards bore the general a son, Simon Bolivar, Jr. graced the Kentucky's governor's mansion when Buckner was elected to that office in 1887. She remained by his side until his death at Glen Lily in 1914. Their son, Simon, Jr. was fated to become one of the highest ranking American officers killed during World War II. His death marked the final chapter in a union that the elder Buckner termed his "final surrender."