A Recap of the Royal Visit to The Filson
If you haven't heard yet, His Royal Highness, Charles, The Prince of Wales, visited The Filson during his trip to Louisville last month. It was definitely an exciting time for us, not only because of the Royal visit, but also because Louisville was designated a "National Treasure" by the National Trust for Historic Preservation. Both of these events added to the air of excitement surrounding the Royal visit.
My job during the afternoon was to take a ton of photos to document this historic event. I was issued an official press pass by the British government and told to wear it at all times. I took my place near the back of the room and watched as history unfolded.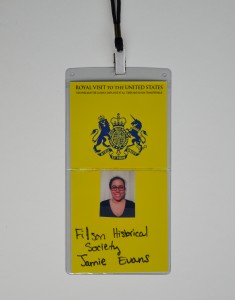 The Prince's visit was preceded by a panel discussion called "The National Trust for Historic Preservation Presents: Valuing the Built Environment." The discussion, lead by Stephanie Meeks, President and CEO of the National Trust, featured Mark Huppert, Jim Lindberg, and Gill Holland, and centered on using the Heart of Louisville as an urban laboratory that will test the impact of technical, financial, and marketing assistance in historic areas. In addition to the discussion, there was a great question and answer session with guests and the panelists.
Once we got the signal, I went outside with the rest of the press as we waited for His Royal Highness. The level of excitement really jumped here, at least for me. I've never been a part of a visit of this caliber before, even though I grew up in the Washington, D.C. area.
Dr. Mark Wetherington, director of The Filson and Immediate Past President of the Board Orme Wilson III wait to greet Prince Charles.
The Prince was announced by Immediate Past President of the Board Orme Wilson III, and once he was seated, Ms. Meeks presented Mayor Greg Fischer with the "National Trust" designation and award. After the mayor's remarks, Ms. Meeks presented Prince Charles with a framed photo of his grandmother at another location that has been deemed a "National Trust." The Prince then gave a short speech about his efforts in historic preservation in England. A short audio clip of his speech can be heard below.
If you would like to hear the entire presentation, we have the full podcast of this event in the "Read Watch Listen" section of our website. Podcasts are only available to members of The Filson, so we invite you to join today if you are not already a member!
It's exciting to say that I got to see the Prince of Wales and play a small part in this moment in history. I don't think any of us are going to forget this visit anytime soon.