Women's History Month – Photos of Past Filson Staff Members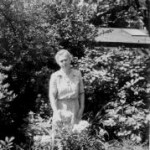 I love photography, specifically film photography. There is a certain depth to film that you just can't get with a digital photo. Perhaps it's that with digital photos, you can take thousands of images and choose the perfect one, discarding the rest, but with film, you have to be intentional. I love the feel of photo paper, the anticipation as you develop your film and find out if your vision came out as you thought it would.
As I was thinking about what to post today, Jennie pointed me in the direction of our Filson Club staff photos. I hadn't seen this particular set of images before, but I'm so glad she showed me. I was struck by these everyday moments frozen in time. Sometimes I forget how special it is to work in a historical archive, and seeing images like this remind me of that. For Women's History Month, I decided to highlight three of my favorites.