The Games People Played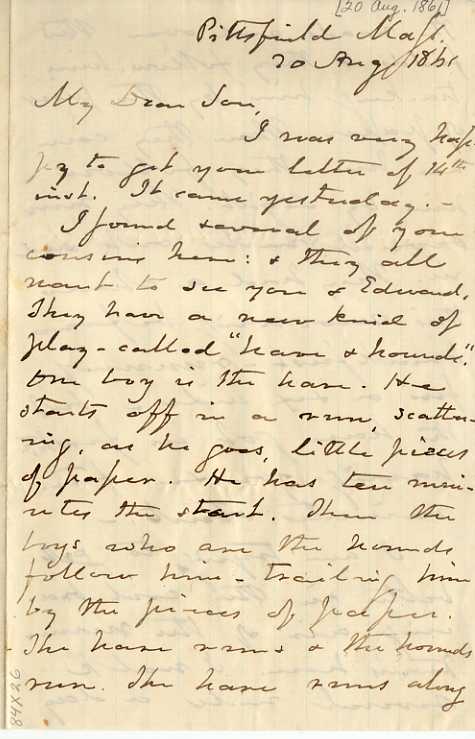 With the coldest days of winter (hopefully) behind us and Spring rapidly approaching, The Filson offers this glimpse into our collections showing how people entertained themselves in the nineteenth century, well before there was a television in every home and video games in most of them. Much as you might expect, a great deal of people's (especially children's) entertainment occurred outside.
In a 20 August 1861 letter to his son E. P. Humphrey describes a new game the children are playing called "Hare and Hounds." In this game, one boy would be the hare and start running from the others, scattering small pieces of paper as he went. After giving him a ten minute head start the rest of the boys, the hounds, would begin pursuing him, following the pieces of paper until they could see him and then chasing him by sight until he was captured.
In a 13 April 1906 letter in the Foote Family Added Papers "Uncle Wallace" writes of how he entertained himself as a boy in the 1860s by "catching frogs around those ponds by the old place. My greatest enjoyment was to push a little plank boat around the pond with a stick."
During the winter children still went outside to entertain themselves, and in some of the same ways they do today. Charles Thomas Bayless, a 15 year old boy living in Louisville, writes in a 13 January 1886 diary entry that "I then went out with a sled to ride behind wagons, and I played out till dinner sleighing and snowballing." In other parts of his diary Bayless discusses baseball, ice skating, hunting, and fishing.
And occasionally, of course, people remained inside to play. The Dorr Family Added Papers contain the 1844 "Rules for the Game of War." This game is played on a grid similar to a large Checkers or Chess board, with cavalry, artillery, infantry units, and a general engaging in skirmishes around fortifications. Players took turns moving their various units, with rules as to which units could capture or destroy opposing game pieces.
While the rules for the game may appear to be very similar to modern board or strategy games, they also include instructions for making the board and pieces such as "Make squares (nearly one inch each), half squares, and quarter squares of pasteboard or wood to represent armies." The instructions go on to suggest marking the squares to represent the various kinds of units, and describing rules for how the game is played and how to win.
However you chose to pass the time, we hope you have enjoyed these glimpses into how our ancestors entertained themselves.