Spring is in the Air?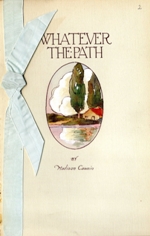 The weather has been doing a particularly poor job of conforming to my expectations lately.  On a cold, blustery day like today—and with yet another dusting of snow on the ground! —I found myself in desperate need of some springtime imagery.  Fortunately, I came across just the needed morale boost in the Filson library's Madison Cawein poetry collection.  Perhaps Cawein's words, and some of the accompanying illustrations, will lift your spirits as well.
Cawein was a Louisville native and a prolific writer.  He was born on March 23, 1865 and spent much of his childhood in Brownsboro, Kentucky and New Albany, Indiana.  He graduated from Louisville Male High School in 1886, where he presented an original poem for his graduating class.  Cawein published 36 volumes of poetry during his lifetime and found much of his inspiration from the landscapes of the Louisville area.  He had a habit of roaming the neighboring hills and woods on Sunday afternoons.
Cawein's vivid descriptions and adept command of language create images in the minds of his readers.  A few of his many volumes are beautifully illustrated as well.
In addition to his poetry, Cawein also wrote the lyrics for several songs.  Many of these songs are preserved in the Filson's sheet music collection.  For further information on Madison Cawein's life and works, refer to The Story of a Poet by Otto A. Rothert.  The above images are from two of Cawein's poetry volumes: The Message of the Lilies and Whatever the Path.