Quilting in The Filson's Collections: The controversial theory of quilts used as a code to aid slaves on their escape
I'm always excited when I find a new quilt in our collections. I tend to stumble upon them in the database when I'm looking for something else and it's a fun surprise. I was lucky to find mention of a Bear's Paw quilt in PastPerfect. The back of the quilt bears the following inscription: "Made by Mrs. Hannah Haye, Born in England about 1795." Unfortunately, the accession records for this quilt are not very detailed. All we know is that the quilt dates back to the 1850s and was donated in the 1960s by Mrs. Margaret Bridges.
The back of the Bear's Paw quilt. The inscription says: "Made by Mrs. Hannah Haye, Born in England about 1795."
Because this quilt is in our artifact collection and is stored offsite during construction, I have sewn up a sample block, which you can see below. From a quilting standpoint, the construction of this block is very simple. Each quarter is made up of a large square, a small square, and four half-square triangles (HSTs). The block is considered to be an intermediate block to piece, probably because of the smaller size.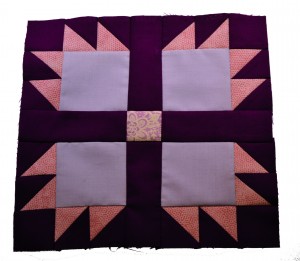 Bear's Paw is a pattern I haven't seen a lot, and as it usually happens, I fell down the research rabbit hole as I looked into the history of this pattern. The rabbit hole led me to the theory that quilts were used as a code for those utilizing the Underground Railroad. Quilt code theory is a controversial point among many historians and what information we do know is in the form of stories passed down through generations. There is no written record of an Underground Railroad quilt code to date. The theory is that certain patterns were used as a code for slaves to follow on their escape from the South. It was illegal to teach slaves to read or write in many southern states, but quilt patterns used in a certain order could have been one way that the Underground Railroad aided slaves in their escape. It was not uncommon for a quilt to be hung out to air, and if this theory is true, the thought is that slaves would be able to get messages from these airing quilts. One of the patterns commonly discussed with the theory is the Bear's Paw.
The Bear's Paw quilt block is known by many different names, such as Bear's Foot, Duck's Foot in the Mud, Hand of Friendship, and the Cat's Paw. In their book Hidden in Plain View: the secret story of quilts and the Underground Railroad, Women's Studies professor Jacqueline Tobin and Art Professor Raymond Dobard suggest that this block was used as a method of instructing slaves to follow bear tracks on their escape. Bears have good memories and know where to go for food and water. Another theory is that the Bear's Paw told knowing slaves to follow a mountain path and stay out of view before following an actual bear's trail to food and water.
Hidden in Plain View is based on the remembrances of Ozella McDaniel Williams, a quilt store owner near Charleston, South Carolina. The goal of the book was to ensure that her family's oral history of a quilt code, passed down through the years, was written down. The book, published after Ms. Williams' death, details the mnemonic code that was supposedly used by slaves to escape Charleston. The code was not used by Ms. Williams' own ancestors and several other family members claim to have not heard this "family story." Whether or not the theory of the quilt code is fact or fiction, it does make for a compelling story.
I can't tell you if The Filson's quilt was used for any kind of code, but it dates back to a period in time when the Underground Railroad was operating. I hope to be able to do more in-depth research into the woman who pieced this quilt and find out a bit more about her history.
Sources:
https://www.owensound.ca/osblackhistory/underground-railroad-quilt-code
http://web.archive.org/web/20040907004700/http://www.wqln.org/safeharbor/Film/InterviewTranscripts/Dobard/Quilts.htm
http://news.nationalgeographic.com/news/2004/02/0205_040205_slavequilts_2.html
Tobin, Jacqueline L., and Raymond G. Dobard. Hidden in Plain View: the secret story of quilts and the Underground Railroad. New York: Doubleday, 1999. (Available from the Louisville Free Public Library, www.lfpl.org)
Textiles:
Quilt, Bear's Paw pattern, ca. 1850. Provenance: Mrs. Margaret Bridges. From The Filson Historical Society's Collections [1960.3.1]
Bear's Paw Block instructions can be found here: http://www.generations-quilt-patterns.com/bears-paw-quilt-block.html
Fabric: Purple/Mauve scraps from my scrap bin. Machine pieced on my Janome Magnolia 7318.