Is This Thing On? — #OralHistoryDay at FHS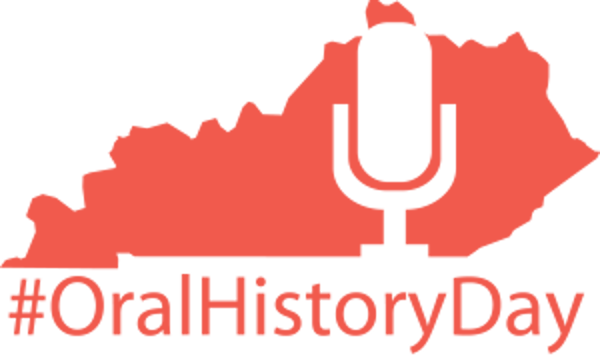 In celebration of Kentucky's inaugural #OralHistoryDay, FHS's archivists gathered first thing this morning to discuss and devise a plan. First order of business? Define what an oral history is (and what it is not).
A helpful resource Doing Oral History breaks it down like this
Oral History collects memories and personal commentaries of historical significance through recorded interviews.  An oral history interview generally consists of a well-prepared interviewer questioning an interviewee and recording their exchange in audio or video format.  Recordings of the interview are transcribed, summarized, or indexed and then placed in a library or archives. These interviews may be used for research or excerpted in a publication, radio or video documentary, museum exhibition, dramatization or other form of public presentation. Recordings, transcripts, catalogs, photographs and related documentary materials can also be posted on the Internet.  Oral history does not include random taping, such as President Richard Nixon's surreptitious recording of his White House conversations, nor does it refer to recorded speeches, wiretapping, personal diaries on tape, or other sound recordings that lack the dialogue between interviewer and interviewee. Donald Ritchie
The next step for the group was to determine, based on the above definition, which holdings of The Filson's would constitute as oral history. We discovered four examples of oral histories as well as some files marked "Oral History" that turned out to be lecture transcriptions--not oral histories. We will begin our list of oral histories with the oldest example, that being the microfilmed files of Lyman Copeland Draper and John Dabney Shane, from there we will look at the Cabbage Patch Settlement House, 21c Parks and finish with Carridder Jones's oral histories of the African American hamlets of Jefferson County, Kentucky.
Lyman Copeland and John Dabney Shane
Draper (1815-1891) and Shane (1812-1864) are considered Kentucky's "Pioneers of oral history"; individually each man set out to transcribe the stories of Kentucky and the surrounding states' pioneers and their descendants. Each man went on to collect massive amounts of material--Draper would eventually be named Secretary of the State Historical Society of Wisconsin and he remained with the Society until shortly before his death; most of Draper's materials became property of the State Historical Society of Wisconsin. As for Shane's collection, they document the life of the frontier's "common man". His collection was auctioned in 1864 and  eleven large volumes and six scrapbooks were purchased by none other than Draper. While originals of these collections are located at various repositories, The Filson has a combined total of 155 reels of micofilm from both Draper and Shane.
Cabbage Patch Settlement House
Mary Louise Marshall and a group of interested community members established the Cabbage Patch Settlement House as a not-for-profit corporation in October 1910, with the goal of providing educational and family services for area youth. Marshall used her family, friend and church connections to do major fundraising for the Patch, both to buy initial property and buildings, and to support the growth, expansion and continued activities. As the years passed, the services of the Patch expanded to include a well-baby clinic, a kindergarten and a nursery; organized athletics, field trips and camps, and more activities for adults. The Patch became a community center, providing an unemployment relief bureau, a commissary, apartments, rummage sales and a library.
In addition to extensive administrative records reaching back to the founding of the organization, the Cabbage Patch Settlement House Collection includes audio cassette recordings and accompanying transcripts with former Cabbage Patch attendees and staff, as well as attendees who went on to become staff later in life. The recordings were made primarily in 1987 as part of an oral history project aimed at documenting the early years of the Patch. The collection includes contemporaneous and recent indexes of interview recordings, listing subject, interviewer, relationship to project, length of recording and restrictions.
21st Century Parks 
The 21st Century Parks collection consists of correspondence, planning documents, publications, research materials, interview transcripts and audio recordings related to the development of the Parklands of Floyd's Fork in eastern Jefferson County, Kentucky. The research materials, transcripts and recordings, primarily collected and conducted by journalist Bob Hill, cover the development of the parklands as well as the historical background of European and American settlement of the Floyd's Fork area. Hill's more than 80 interviews cover subjects including African-American communities and families in the area, as well as farming families and historical residents, schools, social customs, the development of previous land projects in the area and the current efforts to acquire land and make modifications to create the park system. Because the collection is still accruing and is not yet cataloged, a detailed list of interviewees is not publicly available. However, interested researchers should contact Filson Special Collections for further information.
Carridder Jones and the African American hamlets of Jefferson County, Kentucky
Fueled by a desire to understand the origin and development of early African American communities of Jefferson County, Kentucky, The Filson partnered with Carrider Jones to conduct an oral history project documenting the history of these communities. Typically overlooked in the standard historical surveys of Jefferson County, the histories of these communities were largely hidden. From 2000-2002 interviews were gathered and supplemented with data from other historical sources. Jones met with residents of the communities of Berrytown, Griffeytown, Newburg-Petersburg, Prospect, Harrod's Creek and Jeffersontown.
In all, 23 individuals were interviewed during the course of the project; transcripts of the interviews have been retained here at FHS.  A number of the interviewees were direct descendants of the founders of their communities. Additional research material on these neighborhoods was also gathered and forms a portion of the collection.  Sources consulted include census records, deeds, maps, wills, estate settlements and tax lists.  Some interviewees also provided photographs from their communities.
Another goal of the day was to create a guide of our oral histories. That guide provides descriptions of our oral history holdings and informs researchers about the collection's current status (cataloged or uncataloged, still acquiring, etc), a PDF will be available soon.
Finally, updated workflows for oral histories were discussed among the group.
In summary, here is what we accomplished: First, we met as a staff to determine our plan of attack, then work was divided and the tasks were assigned, research and summaries of current holdings were written (or compiled), a oral history guide was created (PDF version is coming soon!), an updated oral history workflow was discussed and social media posts were done throughout the day in order to share our experiences with other participating Kentucky institutions. With the day nearing done, we consider our participation in the first-ever #OralHistoryDay a success!
Interested in learning more? Here are some great resources that will get you started: