Meet Maureen Lane: Registrar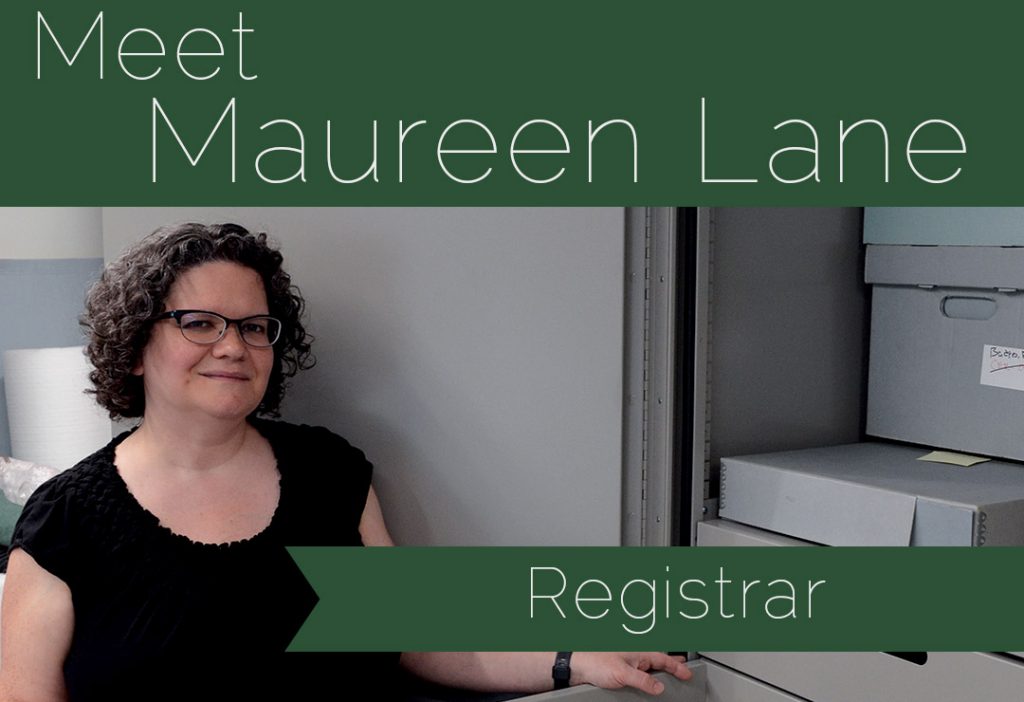 Pathway to The Filson
I first started working in museums about 15 years ago when I began volunteering at the Susquehanna Art Museum in Harrisburg, Pennsylvania. I also met my future husband Matt there who was also a volunteer. We were set up on a blind date by a staff member and got married in the museum two years later. My first paid museum job was at the Phillips Museum of Art at Franklin & Marshall College in Lancaster, PA. I also worked for the Pennsylvania Historical Museum Commission and then at the Frazier History Museum here in Louisville.  We moved to Louisville when Matt got a job as a preparator at the Speed Art Museum. I feel at home at The Filson and am very happy to be here.
What's your job title? Describe what you do.
I'm the Museum Collections Registrar and I'm responsible for the care and preservation of the Filson's collection of art and material culture. The Filson has been a collecting institution for more than 133 years, so I always tell people my job is to help make sure our art and historic artifacts survive for another 133 plus years.
 Important current projects
During the recent campus expansion, The Filson built beautiful new storage areas for its collections. I've been unpacking and organizing the museum collection in its new home. I've also started to inventory the collection, which is quite exciting because I get to look at every item. It's the best way to learn about the collection and the Filson's history as an institution.
Most interesting item found in the Museum collection?
 I totally geeked out when I came across a portfolio of flapper era drawings made by Mary Cummings Paine Eudy who was a fashion designer in Old Louisville during the 1920s and 30s. As it turns out, the building I live in used to be her design and sewing studio where she employed other women. That made me feel really connected to Louisville and its history. The Filson has several dresses and pieces of jewelry designed by Eudy. I'm working on an article about her and I hope to turn it into a future exhibition project.
I think one of the best kept secrets about The Filson is that we have an amazing collection of textiles and clothing that date back to frontier life. One of my goals is to make this collection better known so that it is might be used more by researchers.
What is something that you'd like the membership to know about you?
The most interesting place that Matt and I have traveled to is Iceland. It is an amazing place that I still think about a lot. We want to go back there again but Matt and I also want to explore the western part of the United States and I really want to visit the national parks.
What are you passionate about?
I love to quilt. I learned how to quilt from my mom who is also a quilter. Louisville has a very friendly quilt community that made me feel at home. I have also been into researching my family's genealogy. I was excited to discover a very special quilt in The Filson's collection that was acquired earlier this year. The crazy quilt blocks were sewn by Leviann Webb c. 1880 and finished by her daughter Sallie. Each block represents a member of the Webb/Barbour Family whose genealogy was carefully mapped. I enjoy helping other people connect with art and material culture in similar ways. I feel very strongly about making the museum collection searchable online so that our members can learn about the many gems in the collection and use them in their own research.
What is your favorite thing about Louisville?
Living and working in Old Louisville, I'm surrounded by history everywhere I go.  I love the old houses and that the city has so much character.  I also love that there are so many public parks and outdoor spaces in this city.  I'm a fan of Frederick Law Olmstead so I was excited to learn that he designed a park system around the city.
---
This interview is part of an ongoing staff profile series in The Filson newsmagazine and was originally published in our Fall 2017 issue.